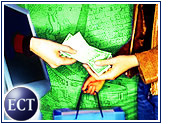 Portals and Internet shopping malls attracted a larger share of the online shopping audience than major e-tailers last week, according to a report released Thursday by Nielsen//NetRatings (Nasdaq: NTRT).
Visits to shopping sites at portals such as Yahoo! and Lycos rose 81 percent during the week ended December 2nd. In all, those sites drew 36 million visitors, just slightly ahead of the 35 million surfers attracted by online department stores such as Amazon.com (Nasdaq: AMZN) and Walmart.com (NYSE: WMT).
"In sheer size of shopping visits, shopping aggregators such as the Yahoo!, AOL and MSN online malls are neck-and-neck with well-known virtual department stores in attracting consumers," said Lisa Strand, director and chief analyst at New York-based NetRatings.
Power Brokers
Many of those portals forward traffic on to major independent e-tailers. But they also offer shoppers the chance to compare prices and selection across many merchants, including smaller retailers that otherwise would be unable to maintain a Web presence.
Portals regularly draw the most overall Internet traffic. In fact, NetRatings found earlier this year that one in three Web surfers visits at least one portal regularly.
Forrester Research, meanwhile, has predicted that portals will evolve over time into important e-commerce brokers that will "help retailers reach, convert and provide services to more customers."
"Shopping aggregators offer consumers the power to browse through a myriad of online storefronts, drawing a steady stream of visitors with one-stop shopping combined with the ability to comparison shop," Strand said.
Millions of Trips
The data showing the rise of portals in the holiday shopping season came as NetRatings released data showing that 117 million online "shopping trips" were conducted during the week that ended December 2nd.
That figure, which represents a 59 percent increase over the previous week, is in line with a 62 percent shopping surge tracked during the same week in 2000.
Fun and Games
"After a solid Thanksgiving shopping week, consumers rushed back online the following week to make their holiday gift purchases while taking advantage of the many promotions and sales," said Strand. "With the U.S. economy in a full-fledged recession, it's encouraging to see that holiday e-commerce has caught up to last year's pace."
Leading the way among shopping categories in terms of growth was toys and games, which saw traffic rise 123 percent since the start of the holiday season. Electronics posted the second largest gain, at 97 percent, followed by home and garden. Apparel sites also are seeing traffic up sharply, gaining 67 percent.