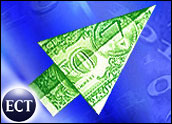 Consumers spent US$4.3 billion online in April — a 22.1 percent spike from the $3.5 billion racked up in Internet sales in March — accordingto data released Tuesday by ForresterResearch and Greenfield Online.
The research firms found that last month's e-tail spendingoutpaced the $3.3 billion spent by Web shoppers in April 2000 by approximately 30 percent.
Among the retail categories that posted the biggest jumps were apparel,airline ticket sales, car rentals and hotel reservations.
"With temperatures soaring in the Northeast in April, people came out of thewinter doldrums and decided they needed a change of apparel," Greenfield Online corporatecommunications vice president Gail Janensch told the E-Commerce Times.
Janensch added that the warm weather trend appeared to influence shoppers' online travel spending as well.
Barometer Check
In addition, the Forrester Online Retail Index, which compiled data from 5,000 onlineshoppers about their purchasing history, concluded that the average amountonline shoppers shelled out also saw a bump, increasing from $263 per person in March to $273 in April.
At the same time, the number of households online climbed to 15.6 million inApril from 13.3 million the previous month, the research firm said.
Flying High
The latest figures from Forrester add to themounting evidence that online travel remains one of the most thrivinge-commerce sectors.
Airline ticket sales jumped to $776 million in April from $572 million in March, and car rentals increased to $247 million from $132million.
The study also said that online hotel reservations increased to $512 million in April, compared to $310 million the previous month.
As for new clothes, Internet-based sales of apparel leaped to $291 million in April from $178million in March.
Software Stall
While sales of big ticket items fared well in the Forrester index, previouse-tail staples — such as software, books, music, videos and consumerelectronics — did not show similar momentum.
Software sales via the Web dipped to $106 million in April from $136 million in March, the report said. Internet-based sales of videos dropped to $66 million in April from $81 million in March, and online consumerelectronics plunged to $154 million from $207 million.
For its part, the online music sales category only managed to edge up slightly, withe-shoppers spending $103 million in April compared to $102 million in March.Internet book sales also saw a moderate increase, climbing to $155 million last monthfrom $147 million in March.