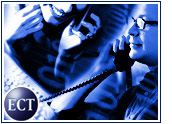 In order to steer long-term revenue growth, businesses need to begin using the Internet to move all of their company operations as close as possible to customers and suppliers, or risk being edged out of the game by competitors, according to a report released Wednesday by GartnerG2.
To this end, the report — titled "The Edge Economy: Give Up Control, Gain Revenue" — advised that the Internet and related technologies are particularly potent tools for businesses, including real-world companies, to boost speed, ramp up efficiency and facilitate communication between buyers and vendors on key knowledge and data.
The research firm said that Edge Economy firms can be defined as businesses that concentrate the vast majority of their resources on the "touchpoints" they have with customers and suppliers to bolster earnings.
Specifically, GartnerG2 found that Edge Economy companies are better equipped to develop flexible technological systems that provide a "straightforward process" for billing in a way that customers and sellers prefer.
Flexibly Efficient
"Edge companies that employ these efforts will achieve greater returns on investment, faster growth and better profit margins," the report said.
Moreover, such businesses "will have better product offerings with value-added components that meet the individual needs of customers," according to the report.
"Those sales translate into greater revenues and satisfied, long-term customers," GartnerG2 said.
Added Benefits
An additional advantage for companies that implement a technological game plan is improved employee productivity, said GartnerG2.
The combination of flexibility and technology — such as wireless phones, personal digital assistants (PDAs), laptops, and high-bandwidth services for remote connectivity — is a "powerful" enticement to attract and retain talented workers, the report said.
On the flip side, GartnerG2 research vice president Van Baker said firms that ignore Edge Economy business practices are placing themselves at a "significant competitive disadvantage in terms of product quality, value and services."
In fact, the report forecast that nearly half of all large business failures by 2005 will be caused by an inability to smoothly manage the transition to the Edge Economy. The report also projects that Edge companies will control 95 percent of all markets by 2010.
Outsourcing Option
Another feature of the Edge Economy is a drive towards outsourcing. Outsourcing has been a particularly pressing concern for Internet merchants in recent months, with increasing numbers of e-tailers citing order fulfillment problems as a considerable obstacle to reaching profits.
A recent study from Jupiter Research forecast that one third of all Web vendors will outsource their shipping to third-party merchandise suppliers, Internet-based fulfillment networks and drop shippers over the next year.
Accordingly, the Jupiter study also estimated that Internet retailers may be able to shave up to 25 percent off their labor costs, speed processing times and lower inventory overhead by managing their suppliers through outsourced fulfillment networks.