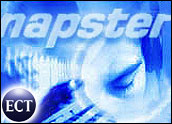 If the file download numbers released Tuesday by Webnoize are any indication, Napster fans had better keep their fingerscrossed that Napster's potential deal with MusicNet goes through.
According to Webnoize, Napster downloads fell 87 percent from February toMay, dropping all the way from 2.79 billion music files two months ago to360 million last month.
Webnoize said the drastic fall in Napster's download activity is the resultof the filters the site implemented to block the transfer of copyrighted music files, in order to comply with a U.S. district court injunction.
"The filters are doing their job, and there's simply less content availableto download," Lee Black, director of research for Webnoize, told theE-Commerce Times.
Users Bailing
The number of simultaneous Napster users has also fallen, but not as sharplyas the number of downloads. The average number of simultaneous users was844,000 in May, down 46 percent from the peak of 1.57 million simultaneous users inFebruary.
"Consumers are still using the Napster application, but the way they use ithas changed over the last three months," said Webnoize senior analyst MattBailey. "The Napster software on a user's PC is now being used to organizeand play music stored on the hard drive, rather than as a means to accessshared music."
But no matter how many consumers are still using Napster, they may stop using it altogetherunless the company can provide them with access to additional content.
"Certainly they need to find content for their user base, which is dwindlingunder 1 million," Black said. "But it hasn't dropped as rapidly as itscontent has."
Back to School
Despite Napster's declining download rates and audience base, the news is not bad for the maverick company. The Webnoize report also indicated that the potentialfor strong growth still remains for Napster.
Over half of U.S. college students are willing to pay $10 or more per monthto use Napster, suggesting the college market alone could generate over $400million per year in revenues for the service, Webnoize said.
But only 4 percent are willing to pay upwards of $20 for the service, while23 percent said they wouldn't pay to use Napster at all.
Still No Content?
The possible deal with MusicNet announced earlier Tuesday would give Napsterlegitimate access to the music of three of the five major record labels suing Napster for copyright infringement.
However, Black warned that the MusicNet deal still would not solve Napster's majorcontent problems.
"MusicNet has licensing agreements, but not real content yet," Black said."Rather than becoming a major technology player, (the MusicNet deal)certainly might position Napster into a more appealing acquisition becauseit offers the possibility of higher tier services."