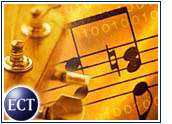 Bertelsmann AG announced another addition to its online music empire Wednesday, saying it has acquired Internet music collection service MyPlay.com.
Bertelsmann said MyPlay's digital locker and music subscription technologies will be integrated into the company's new digital technology division, BeMusic. According to Bertelsmann, MyPlay is one of the first sites to offer digital music lockers and has over 6.5 million registered users.
BeMusic, scheduled to launch July 1st, also includes earlier Bertelsmann acquisitions, such as online music retailer CDNow, music clubs BMG Direct and Digital World Services, and the file-sharing service Napster.
According to industry sources, the deal for MyPlay cost Bertelsmann approximately US$30 million. A year ago, MyPlay was in talks to be acquired by Yahoo! for a reported $200 million price tag.
MyPlay-by-Play
MyPlay provides Internet-based storage of digital music. Web surfers upload their own CDs into their MyPlay digital locker for later listening via any device that can be connected to the Web.
The company also offers free promotional tracks, but has been able to avoid the licensing issues that plagued other music locker sites such as Napster and MP3.com.
Bertelsmann could potentially use the MyPlay technology to let its customers hear their CDs before making a purchase, or incorporate the technology into a Bertelsmann-backed commercial version of file-sharing service Napster.
Unique Troubles
MyPlay was founded in October 1999 by Doug Camplejohn and David Pakman, former executives at Apple Computer. However, the very policies that kept MyPlay out of legal troubles put the company in financial hot water.
Without the ability to strike licensing deals with major record companies, MyPlay found itself laying off 22 employees in February. The company then changed its strategy and began obtaining music licenses from major labels in order to license a subscription service package to other businesses.
Healthy Competition
The move by Bertelsmann may be an effort to counter the purchase of MP3.com by Vivendi Universal on May 21st. Vivendi bought MP3 for approximately US$372 million, a far cry from the $30 million Bertelsmann is paying for MyPlay.
Bertelsmann reportedly rejected an offer to buy MP3.com because the asking price was too stiff. In a conference call with the press, Bertelsmann denied that its acquisition of MyPlay was a result of Vivendi's recent MP3 purchase.
In the beginning of April, Vivendi also acquired subscription music service EMusic in an all-cash deal worth approximately $23 million.
Vivendi also owns a music subscription service, called Duet, with Sony Music. The purchase of EMusic gave Duet immediate access to a digital download infrastructure. Then, later in April, the company purchased BMG's stake in the online e-commerce and music information site GetMusic.com.