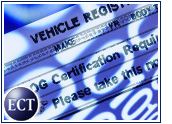 Despite the failure, as detailed in the documentary "Startup.com," of govWorks.com to make paying parking tickets via the Net a dream come true, real-world government agencies are working overtime to make Internet services for motor vehicle registrations and driver licenses a reality.
According to a report released Monday by Accenture, the number of U.S. departments of motor vehicles (DMVs) using the Net to offer services this year has nearly quadrupled from last year.
"The rhetoric regarding e-government is moving closer to reality," Accenture managing partner Stephen Rohleder told the E-Commerce Times. "You're seeing more states tackle these initiatives as the technology matures."
The most common service offered online is vehicle registration renewal, with 40 percent of all motor vehicle agencies offering a Web version.
Is Government Listening?
In a survey conducted last year by Accenture, 83 percent of respondents said creating online government services should be a priority. Rohleder said the new motor vehicle numbers show that the government is heeding citizen concerns.
The increase in motor vehicle agency Web use covered a wide array of services, from responding to online requests for downloadable change-of-address forms, to driver's license applications. Six percent of states now offer residents the ability to e-mail or complete an online form if they have questions.
However, only one state permits residents to pay citations online – unchanged from a year ago. Ten percent of states now allow residents to renew their driver's licenses online, up from 4 percent last year.
"Like any type of B2B (business-to-business) exchange or portal, there's an initial stage where the government experiments with the technology and that's where we are right now," Rohleder said. "After 12 to 18 months, (as) the government begins to drive up volume to justify the investment, you'll begin to see more focus on expanded transactions and more functionality."
Smaller States Lead
Massachusetts and Virginia led all states by offering the most online services — both with seven offerings.
"The states that have the most functionality are typically the states that have more of a centralized administration and a smaller user base," said Rohleder. "Some of the larger states are still struggling to get the larger suite of applications implemented."
In Alaska, residents wanting to avoid extended waits at their local motor vehicle office can go online to see a photo of the office's queue lines, updated every five minutes.
The Future Isn't Now
The majority of state DMVs have a lot of work left to do, Rohleder said. Seventy percent of all state motor vehicle agencies do not offer services online beyond general information and downloading of forms.
Over the next two to three years, Rohleder said, there will continue to be an expansion of government transactions available over the Internet. The question is whether that will be in time to satisfy the masses.
"People want government services when they want it and on their terms," Rohleder said.