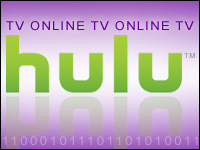 Video-on-demand website Hulu is embroiled in internal struggles over its business model.
The site is a pioneer in Internet video when it was launched by TV networks in 2008, streaming recent episodes of popular TV shows, along with a limited number of commercials, to computers and other devices.
Hulu is a joint venture of TV giants NBC Universal, FOX Entertainment Group and ABC. The site was launched partly as a defensive move against the online piracy of TV shows.
Hulu's viewer population has been steadily increasing since its launch. It recently launched a paid service that gives users access to more content on more devices in exchange for a small monthly fee. Shows on the paid service, called "Hulu Plus," include commercial breaks, as do shows on the free service.
Now, according to a Thursday report in The Wall Street Journal, its parent companies are thinking about pulling content because they believe Hulu is stealing too many viewers from regular TV. The parents are quarreling with the site's executive team and are now in talks about possible changes, including revamping site into an online form of cable TV, according to the report.
The parent companies are also reportedly arguing over who gets to sell the advertising.
Hulu did not respond to an E-Commerce Times' request for comments by press time.
Content Wars Grind On
The availability of legal media on the Internet has been a troublesome subject for content providers. "The owners of content love to get paid and like to get paid in a predictable manner," Charles King, principal analyst at Pund-IT, told the E-Commerce Times. "From a historical standpoint, we've been going through the content wars for well over a decade. It stated with AOL and the belief that whoever owned the content would own the Internet. But that's been a slippery notion. The Internet has wreaked havoc in the content industry."
Content providers seek a solution that will allow them to make money while reaching viewers directly. A middle man — such as Netflix — takes a chunk of profit. "Apple has done an amazing job with its iTunes store," said King. "But the conventional wisdom is that the music production companies got hosed in the deal. Now with video, the content providers are trying everything they can to stop the same thing from happening to them from upstart video companies. Their latest target is Netflix."
Hulu is struggling to find a way to win without making its customers lose. "Hulu started as a company that would let the TV companies deliver content they way they wanted to," said King. "But now they feel threatened. Hulu's brand and value as an online commodity will drop significantly if any of its owners bail out. If it has less content, it has less value."
Can Hulu Change?
If Hulu wants to stay afloat it may need to attract more paying customers. "The market wants free content," Rob Enderle, principal analyst at the Enderle Group, told the E-Commerce Times. "It's used to free content. But they're willing to pay under the right circumstances. Cable was built on people paying for content."
Hulu is trying to find a new direction, a difficult task considering growing competition and new methods for viewing video. Video content is widely available online — much of it pirated. One of Hulu's big attractions is that it's free and legal.
"If it's gong to be free, it's going to have to have a huge advertising component," said Enderle. "The online providers make sure you can't fast-forward through the commercials. If you can charge for the programs, people expect it to be commercial-free. But it's hard to do a flat fee. Neither method is easy."