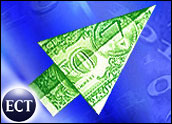 Despite mounting evidence that the global economy is slowing, total worldwide retail e-commerce is expected to reach US$550 billion in 2001, a 92 percent increase from 2000, according to a report released Tuesday by eMarketer.
"The Internet is alive and well and very resilient," eMarketer chief executive officer Geoff Ramsey told the E-Commerce Times. "This is not a fad ornovelty. In terms of the growth of e-commerce in both the U.S. andworldwide, essentially everything is on track despite what we're seeing withthe economy."
The report, which aggregated data from more than 100 research organizations,found that global e-commerce revenues will nearly double from the $286 billion generated in 2000.
"Total retail sales could be flat but that will only somewhat hurte-commerce sales because people are still migrating towards the Internet asa new channel," Ramsey said. "Online sales will continue to grow because it's still a newway for many people to buy — it's displacing or cannibalizing other sales."
Shifting Tides
The eMarketer report also said that despite the increase in overall e-commerce revenues, the dot-com landscape will continue to redraw its bordersthroughout most of 2001 and early 2002, as hundreds of e-businesses are set to run out of cash — and customers.
"Well-established offline retail companies will muscle in on thedot-com's diminishing territory," the report said. "The saving grace of B2C e-commerce will bethe click-and-mortar company that will take the high road to Webprosperity."
Europe Gaining
According to the report, North America currently garners almost 80 percentof global B2C e-commerce sales.
However, Europe's share is expected to grow dramatically in the next few years, as the region adopts technology andbegins to embrace online shopping. By 2004, North America's share of the e-commerce market will drop to around 56 percent, e Marketer said.
Shopping Pleasure
Ramsey said that cultural differences may be one of the biggest reasons forthe discrepancy between U.S. and European e-commerce.
In the U.S., people tend to dislike the hassles ofshopping, whereas in Europe and Asia shopping is often considered anenjoyable social event.
"In the U.S. you can expect by year 2004-05 [that] Internet buying penetration willapproach the same level as buying by catalog or mail order of around 50percent, but in those regions where catalogs haven't taken off as much, itmay be an indicator that there may be a wall coming up for some of thoseregions," said Ramsey.
Stumbling Blocks
According to eMarketer, shipping costs remain a major barrier to the growth of e-commerce across all regions and cultures.
Other barriers include the need for e-commerce pure-play companies to invest in real-world infrastructure, such as warehouses and call centers.
"One of main obstacles to e-commerce growth is on the vendorside," said Ramsey. "At some point your e-business turns into a traditional business andyou have to start investing in infrastructure, warehouses, logistics, etc., to really make your business run."
Travel Rules
The eMarketer report predicts that the online travel segment will continue as the tope-commerce category through 2004. Travel, computer and gift/flowersegments will be the top three categories for 2001, the report said.
"Travel lends itself to the Internet," Ramsey said. "The Internet does best with productsthat can be sold virtually like e-tickets. You don't have to send anythingin the mail which helps the business economics. The Internet is primarily aninformation medium, and there's a huge amount of information associated withmaking travel plans," said Ramsey.
The research firm also predicts that the food/beverages/grocery and apparel/footwearsegments will move up the top 10 category ladder in coming years.