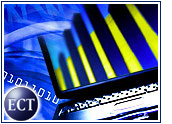 The widescale deployment of broadband access, combined with intensified competitionamong communications, entertainment and technology firms, is likely transform current e-business models in the coming year, according to a study released Monday by Ernst & Young andCap Gemini Ernst & Young.
"Broadband connectivity will be the tide that lifts all ships," said thereport, adding that broadband stands to "fundamentally reshape the way content canbe delivered and stored."
The report, "Business Redefined 2001: Connecting Content, Applications and Customers," found that nearly two-thirds of the chief executive officers surveyed believed broadband connectivity is the "most significant" factor influencing the way Internet users will experience entertainment, communications and technology.
The report also said that households currently connected with broadband access "consume" over 20percent more entertainment time than households without high-speed Net access.
Revenue Avenues
High-speed Web access is gaining greater penetration rates due toincreased availability and reliability, as well as lower costs.
As a result, the study found, content producers will be able to capitalize on new revenue streams — such ascontent subscription, pay-per-use and time-specific pricing.
"The winning companies will take advantage ofthe unprecedented opportunities these changes create," the report concluded.
Paying for Content
The report also found that "unprecedented competitive intensity" is fostering the rapid development of new business models and a growth of newdistribution channels for both news and entertainment.
The study predicts that content producers who have beendistributing their information for free or with traditional pricing will beginchanging over to other models, such as subscriptions, per-transactionpricing and time-sensitive pricing.
"The future of content will be about having on-demand access to it, notownership of the physical medium," said the study.
Complex Competition
Among the factors cited in the report that gave rise to the highly competitive environment were the globalization ofmarkets, deregulation and technology-compressed product life cycles.
In addition, competition is heightened because of enabling technologies that lower the entry barriers for both start-upand established competitors crossing over from other industries, the report found.
"The customer will no longer be held hostage to a single provider," said thereport. "Competition is finally taking root."
Many of the CEOs surveyed noted that subscription-based revenue modelshave succeeded with cable and satellite television companies, despite the existence of free broadcast alternatives.
Net Ad Upturn
Although online advertising is currently stuck in a "sort of purgatory," thestudy was optimistic about the long-term future of Net ads.
"Advertising in the digital world will be a lot more effective," said thereport. "Consumers will have a choice to either remain anonymous and receivecontent for a premium, or surrender some personal information and receivethe content with some personally targeted ads."
In addition, the report predicted that by 2004, online advertising will growto US$33 billion, more than four times last year's intake of $8 billion.However, the study said that dot-coms will create a smaller part of theadvertising pool. Instead, traditional firms will lead the spending spree, accountingfor more than half of all online advertising dollars by 2004.
To compile data for the report, researchers interviewed 128 CEOs and analyzed data from more than 100 information sources.