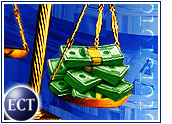 Sites offering contests and promotional offers, financial management tools and multi-state lottery information were the newcomers to the Internet's Top 50 Web sites, according to the latest online audience measurement report from Jupiter Media Metrix (Nasdaq: JMXI), released Monday.
"What we're seeing is the bigger, traditional firms using the Internet as a way to promote their products and supplement their offline promotions and advertisements," Jupiter analyst and vice president Stephen Kim told the E-Commerce Times. "That stands in contrast to the first reaction of traditional companies to the Web, which was to make these beautiful sites focused on direct channel sales."
Jupiter said that newcomers to the Top 50 for August 2001 included Money.net, a financial site, with 2 million unique visitors, and Easilyfree.com, a clearinghouse for contests and special product and vacation offers, with 1.7 million unique visitors.
The Multi-State Lottery Association site, Musl.com, which saw its traffic spike amid its recent US$295 million Powerball drawing, made the Top 50 with 652,000 unique visitors.
Also among the newcomers was the Encartachallenge.com site, which offered a contest relating to Microsoft Encarta. According to Kim, such corporate product promotion sites are starting to hit the newcomers list every month, with similar sites for Coffee-Mate and Frito-Lay jumping into the Top 50 in recent months, only to drop out again.
What one has to ask, according to Kim, is whether the free sites and the giveaway sites will draw a lot of people for a short time, but fail to develop long-term brand loyalty for the businesses that rely on them.
Making the Call
Another notable newcomer to the Top 50 list, with 760,000 unique visitors, was Cellularsafetycommission.com, which has been offering free cellular headsets in the wake of new laws concerning use of hand-held phones while driving.
Not to be left out, professional wrestling, pornography and gambling sites were also among the newcomers to the Top 50 for August, including Summerslam.com from the World Wrestling Federation, and a gaming site called the Golden Tiger Casino, which is licensed in the Mohawk Territory of Canada.
To Their Credit
The digital media properties tracked by Jupiter with the highest percentage gain in unique visitors between July and August 2001 included Columbia House Sites, which increased 72 percent to 10.8 million unique visitors, and Nextcard.com, which increased 46 percent to 9.9 million unique visitors.
Redeemmygifts.com was also a big gainer, rising 35 percent to 5.8 million unique visitors.
Online payment provider Paypal, mega-travel site Orbitz.com, and the Underground Online sites also saw significant jumps in traffic during August.
Money Matters
According to Kim, financial sites, like Money.net, usually join the Top 50 during January and February, the start of the tax preparation season — but not always.
"In the tough economic times that we are in now, it's not surprising that we would see increased traffic to the new and existing financial Web sites," Kim said.