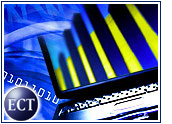 Consumer confidence in the Internet continued to climb in the fourth quarter as Web users become more comfortable with online shopping, according to the Internet Confidence Index released Thursday by Yahoo! (Nasdaq: YHOO) and ACNielsen.
"Web retailers are becoming more and more accepted as part of the overall consumer shopping experience," said Travyn Rhall, managing director of ACNielsen International Research.
"Internet retailers are building loyal customer bases that are spending more and more money during their visits."
During the fourth quarter, the index found, the average shopper spent US$226 online, up slightly from $219 during the third quarter.
Bright Future
The two firms estimate that $15 billion will be spent online during the first quarter of 2002, though the number of shoppers who actually buy will be 47 percent, down from the current quarter's 60 percent.
Online travel remains an especially bright spot for e-commerce. The two firms found that almost two-thirds of online shoppers have booked some travel on the Web. The key motivating factors behind those purchases were the ability to find the best deals, cited by 37 percent, and the ability to conduct research, which 35 percent said was an important element in their travel-buying experience.
Online transactions are becoming "increasingly essential to our everyday activities," said Anke Audeneart, director of global market research for Yahoo.
"Over the holiday season, consumer-savvy e-commerce platforms have remained committed to delivering positive online shopping experiences, which in turn have reinforced consumer confidence," Audeneart added.
Inching Up
The index actually increased just one point in the fourth quarter, adding to more substantial gains seen during the third quarter. In fact, in a study conducted in October to measure the impact of the September 11th terrorist attacks, the index recorded a jump of 9 points from the previous survey and 14 points from the inaugural study in June of 2001.
Other findings included the fact that Internet confidence is strongest in the northeast U.S., and is stronger among men than women. In fact, the gender gap widened in December, with male Internet users scoring 144 on the index and women shoppers 127. The Index uses a base level of 100.
Web shoppers between the ages of 25 and 34 gave the highest confidence score, while shoppers over 45 expressed the most concern about shopping online.
Mixed Messages
The Yahoo/ACNielsen index is compiled through random interviews of 1,000 adults.
The most recent index comes at a time when e-commerce observers have received mixed messages about the all-important fourth quarter.
On Wednesday, Yahoo! said its sales had increased 86 percent over 2000 levels, while rival portal MSN also reported strong gains in sales.
But weaker-than-expected sales in November prompted Forrester Research to lower its spending forecast for the holiday season last week to $8 billion.