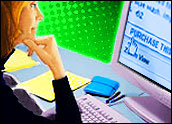 What's the best way to reduce the risk of ID theft? Though it sounds counter-intuitive, would you believe that using the Internet more often does just that? A new survey by Javelin Research & Strategy indicates that those who pay their bills online have a lower likelihood of having their identities compromised.
Additional recent research by Harris Interactive shows that 56 percent of American households with Internet access are paying at least one bill each month online, up from 52 percent in June of 2004. Most interestingly, 87 percent of users who do pay bills online do so from a single, consolidated Web site, sponsored by a bank, brokerage or Internet portal. Therein lies the key, according to Javelin.
If you pay your bills often at these "portals," you will dramatically decrease the risk that some nefarious member of an organized crime syndicate will snatch your data, mid-stream, off the Internet. That's important information — potentially perception changing.
Consumers are increasing their reliance on online banking, the Harris survey shows. The availability of online banking and bill pay features ranked third among the top three factors in selecting a bank for personal accounts, following "availability of free checking" and "reasonable fees and service charges."
Going Mainstream
"Paying bills online is in the mainstream, and for the first time online banking and bill pay has moved into the top three factors considered by consumers when choosing a bank," said Matt Lewis, executive vice president and general manager of Atlanta-based CheckFree's electronic commerce division, which sponsored the Harris study, which queried 2,083 Internet users.
The study revealed that of the next group of potential subscribers, 18 percent, said that concern about the security of their personal information is the "most significant barrier" to using an electronic billing and payment service. What's more, 21 percent of potential subscribers indicated that protection against fraud and late fees would be an attractive incentive in encouraging them to adopt the service.
What are the primary reasons consumers have chosen these "consolidated" sites? The survey points to the following facts:
Convenience: With 27 percent of consumers stating the most important benefit was saving the paper, stamps and hassle of paying bills by check, while 17 percent stated that paying online was the easiest way to pay bills.
Speed: With 13 percent of consumers stating the most important benefit was that it is faster than paying by check.
Control: With 9 percent of consumers stating the most important benefit was the ability to ensure bills are paid on time as specified by the consumer.
Another factor that is driving consumers to consolidated bill paying sites is the emergence of electronic bills, or e-bills, that contain the same information as a typical paper. Of all online consumers in the study, consolidated users who receive e-bills at the same site where they pay multiple bills are the most satisfied customers, with 60 percent of them saying they are very satisfied with online banking, versus 55 percent of consolidated users without e-bill.
E-Bills Helpful
What is more, e-bill users also ranked the reasons they like both receiving and paying bills online via e-bill as making sure the bill is paid on time, never misplacing a bill, making budgeting easier and helping the environment by reducing waste of paper.
According to the CheckFree survey, users of a "consolidated bill payment service" are more likely to use multiple banking services at financial institutions than non-users. A higher percentage of consolidated users have checking, savings and money market accounts, and car, personal or student and home equity loans with these institutions. Sixty-two percent of consolidated users indicated they are less likely to switch banks due to their experience with the service.
These trends bear watching. It seems that the consumers who are duped by ID theft scams and phishing cons are those who don't bank all that frequently online — and who don't recognize the false message for what it is. The effect seems to be, the more you bank online, the less likely you are to be a victim of identity theft.