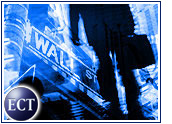 Red Hat (Nasdaq: RHAT) rose US$1.31 to $6.53in morning trading Friday after the company, which makes software for thefree Linux operating system, said it broke even before extraordinary itemsin the fourth quarter ended February 28th.
Analysts were looking for a loss of a penny per share.
Red Hat reported revenue of $27 million for the quarter, up from $13.1million a year earlier, and an adjusted loss of $600,000, or breakeven pershare, compared with a loss of $5.6 million, or 4 cents, a year earlier.
The full-year adjusted loss was $5.9 million, or 3 cents per share, comparedwith a loss of $19 million, or 19 cents, in the prior year. Revenue doubled to$84 million from $42 million.
Deals with companies including Nortel, Deutsche Telekom, Lufthansa andDresdner Bank helped power results during the quarter, the company said.
"Red Hat expanded its sources of revenue by introducing strategic solutionsto our global customers, which contributed to our strong operating results,"said Red Hat president and chief executive officer Matthew Szulik. "Our managementteam has continued to accomplish the operational and financial goals stateda year ago."
A new versionof Linux became available in January, some two years after the previousmajor update.
Last month, Red Hat acquired Planning Technologies, an Atlanta, Georgia-basedengineering and consulting company serving such clients as AT&T, Home Depot and BellSouth, in addition to government agencies.
Red Hat is based in Research Triangle Park, North Carolina.