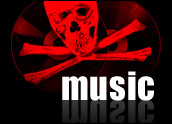 Sony Music, Universal Music and Warner Music on Thursday filed legal proceedings against vKontakte, or VK, charging that the Russian social network operates a music service that deliberately facilitates widespread copyright infringement.
VK operates an unlicensed music service involving a large collection of copyright-infringing tracks that are stored on its website and provided to users for unlimited streaming, the companies charge.
The companies seek court orders requiring VK to remove the infringing repertoire for a sample of artists, as well as a court order requiring VK to implement effective industry-standard protective measures such as audio fingerprinting.
Also included in the legal action is a claim for compensation of just over RUB 50 million (US$1.4 million).
Often referred to as the "Facebook of Russia," VK is the largest European social network, it claims, with more than 100 million active users.
VK did not respond to our request to comment for this story.
'Infringement on a Large Scale'
The three separate cases are supported by the National Federation of the Music Industry, which represents record labels in Russia, and coordinated by the International Federation of the Phonographic Industry.
"For the music industry to grow and prosper, it needs digital partners that are licensed, that respect copyright, and which pay artists and producers for their work and investment," said IFPI CEO Frances Moore. "VK's music service, unlike others in Russia, is an unlicensed file-sharing service that is designed for copyright infringement on a large scale."
Russian consumers can choose from several licensed, ad-supported, subscription and download services, including Yandex and Trava, as well as global music brands iTunes and Deezer.
'Notorious Markets'
The current litigation was filed in the Saint Petersburg & Leningradsky Region Arbitration Court following repeated attempts to persuade VK to tackle its copyright infringements, IFPI said.
VK is also listed in the U.S. Trade Representative's annual report on "notorious markets" published earlier this year.
"This site's business model appears to include enabling the unauthorized reproduction and distribution, including streaming, of music and other content through the site and associated software applications," the report notes.
Though VK does offer a process by which copyright owners can request the blocking or removal of infringing content from the site, the process is onerous and can require that a court order first be requested, according to IFPI. It also requires that individual requests be issued and pursued for each instance of infringement.
'A Pirate Nation'
"Russia remains a pirate nation from the perspective of most copyright holders," patent and IP lawyer Raymond Van Dyke told the E-Commerce Times. "By many measures, music, films and software runs around 80 percent infringement — likely more, despite preventive efforts by the Russian government."
Whereas websites in the United States have "vigorous takedown protocols," however, "vKontakte's retort that works must first be proven pirated rings hollow," Van Dyke added. "As the Supreme Court held in the Grokster case, a service provider cannot have a 'see no evil, hear no evil' approach regarding content on your site."
Yet while "rampant copyists" such as Napster and Grokster were shut down in the U.S., "the Russian authorities will not or cannot take action," he pointed out.
'What Remedies Are Available?'
Indeed, "the question is, how do the wheels of justice spin in Russian courts?" Jim Burger, a partner in Thompson Coburn's intellectual property group, told the E-Commerce Times. "How fast do things move, and what remedies are available?"
Most notably, a key question is whether or not the Russian courts offer injunctive relief, he pointed out.
In the meantime, it could potentially take years for the cases to be resolved, Burger noted.
"To the extent the Obama administration can assert trade and other economic actions against Russia for their failure to act," suggested Van Dyke, "that is another approach for some justice."