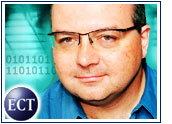 Saying its business would be much larger today if Microsoft had not pushed to create a "new monopoly" in the media player market, RealNetworks said it has filed a civil suit against the software giant seeking US$1 billion in lost revenue and damages.
RealNetworks claims Microsoft used its dominance of the desktop operating system market to "restrict competition, limit consumer choice and attempt to monopolize the growing field of digital media."
Business Move
RealNetworks CEO Rob Glaser said the suit is the result of a "considered business decision."
"We much prefer competing in the market — as we are doing and have done for nine years," Glaser said. He said the goal of the suit is to "end Microsoft's illegal conduct and recover substantial damages on behalf of our shareholders."
The complaint alleges Microsoft restricted how PC makers installed non-Microsoft media players while also requiring that all machines be sold with Microsoft's players already installed.
As proof that Microsoft acted unfairly, RealNetworks cited internal market data that it says shows it gained 1.15 million subscribers who pay to use premium media player services since 1995, a number Microsoft surpassed in 2002, when it released an updated version of its own media player.
Pony Up
RealNetworks said it expects to spend at least $12 million litigating the complaint over the next year and set out a road map for taking charges for the legal costs. The company estimated it could take three years for the case to be concluded if it goes to trial.
Microsoft responded by issuing a statement that described RealNetworks' actions as a rehash of the now-settled antitrust actions by the U.S. Department of Justice.
Microsoft called the suit "unfortunate and particularly surprising given the intense competition in the digital media marketplace and the fact that RealNetworks is the current market leader.
"There is vibrant competition in this marketplace," the statement said. "Computer manufacturers are free to install and promote any media player on new PCs. Consumers are free to use any media player, and many consumers use several different media players."
But RealNetworks said Microsoft has an unseen advantage of being able to customize its players to work seamlessly with the overall Windows OS. In the past, RealNetworks' RealPlayer has been considered a buggy program that in some versions caused Windows to become unstable or crash.
Et Tu, EU?
RealNetworks said its lawsuit more closely mirrors ongoing European Union antitrust inquiries than the antitrust suit filed by Netscape against Microsoft in 1997, but analysts said there are some similarities to the Netscape complaints, which argued that Microsoft used its desktop power to crush competitors in the browser space.
However, while many observers have long argued that Netscape's browser technology was superior at the time the company filed suit against Microsoft, the jury is out on whether that is the case with media players. In other words, Microsoft will be able to argue that its Media Player is grabbing market share simply because it is better, Forrester Research analyst Josh Bernoff said.
"No one believed that was the case with Netscape," Bernoff told the E-Commerce Times. "At the same time, there is clearly a motive for Microsoft to want to control the media platform. It makes it a lot easier for them to fulfill their vision of an integrated computing and entertainment medium that they have a hand in almost from end to end."
RealNetworks sought to minimize any appearance that it could be banking on the suit for its long-term survival. "RealNetworks has continued to innovate and diversify, and we will continue to do so," Glaser said. "However, we believe our business would be substantially larger today if Microsoft were playing by the rules."
Will Microsoft Settle?
Microsoft has shown a willingness, if not an eagerness, to settle lawsuits in the past 18 months, a sign that it is eager to move on after striking an antitrust settlement with the Department of Justice.
However, most of the settlements to date have had some strategic benefit for Microsoft, according to IDC analyst Roger Kay. For instance, Microsoft's $750 million settlement with AOL last spring ensured that Internet Explorer would be integrated into the millions of America Online CD-ROMs that are mailed to consumers annually, helping extend Microsoft's reach in the process.
"It's hard to imagine a settlement with RealNetworks that gives Microsoft much benefit from a business or strategic point of view," Kay told the E-Commerce Times. "They have their own technology, so they don't need to license Real's. As much as Microsoft doesn't want the antitrust issue to be opened up all over again, it's hard to see a settlement that benefits everyone."
Shares of RealNetworks stock fell slightly in early trading Friday to $5.28. Microsoft shares were trading slightly higher at $27.50.