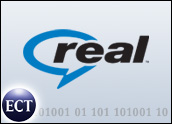 Extending a long-running war from the desktop to the mobile handset, RealNetworks unveiled a streaming video offering for mobile operators and said that Cingular Wireless had stepped forward to be the first carrier to offer the service to customers.
The service immediately creates a new competitive front between RealNetworks and Microsoft, whose own streaming technology and software powers Verizon's various streaming video service offerings.
Leaping on Opportunity
Pricing and other details under which Cingular will offer customers access to Helix OnlineTV, as the service will be known, were not disclosed. RealNetworks announced the service and partnership during a keynote address at the CTIA IT and Entertainment conference in San Francisco.
"Mobile entertainment is a huge opportunity," said RealNetworks CEO Rob Glaser. "We are committed to mobile just as much as we are to PCs."
In fact, analysts said that given that Microsoft technology is being used to deliver video to Verizon mobile users, the Cingular partnership shows that the vicious war that Microsoft and RealNetworks have waged in recent years will continue and be extended from the PC platform to mobile networks.
RealNetworks has a private anti-trust suit outstanding against Microsoft, claiming that it used its dominance of the PC operating system market to foster use of its Windows Media Player standard at the expense of RealNetworks' RealPlayer and seeking some US$1 billion in damages.
Mobile video is still a microscopic market in terms of revenue, but many mobile carriers have high hopes that the technology will help them remain profitable by squeezing additional revenue out of subscribers.
On a Roll
Analysts point to early adoption of streaming video in places such as South Korea in Japan, where hand-held device use is more prevalent and where mobile networks are more advanced as evidence the technology will catch on in time.
"The mobile phone will become the third screen after the TV and the personal computer," telecom analyst Jeff Kagan told the E-Commerce Times. "People will use them for much more than work or communications."
Real growth may be a ways off, however, as problems such as the fractured device market with a number of competing technology platforms and standards, and the fact that mobile networks fast enough to support high-quality streaming video are still being rolled out by carriers. In fact, Cingular's 3G video network is not due to roll out until later thisyear.
The deal — financial terms of which were not disclosed — calls for RealNetworks to provide an end-to-end video solution including application development for packaging mobile content, hosting the mobile video service and delivering content to a variety of new handsets compatible with the new network.
The partnership came just a week after Sprint said it would partner with RealNetworks ona streaming radio service for mobile phones, a move seen as a timely response to the long-delayed launch of the iTunes phones, a partnership between Apple and Motorola.
In recent quarters, RealNetworks has ridden the rise of digital music and especially its early decision to offer more subscription-based services, to strong financial results.
RealNetworks said it could offer mobile carriers both subscription-style and pay-per-view models to pass on to their customers. The advantage of the system, he added, was that it did not require any storage of media on a hand-held device.
Movies and a Game
Cingular also became the first carrier to bring RealNetworks' RealArcade, which offers downloadable games, to mobile users.
RealNetworks Vice President John Giamatteo said the partnerships signal "Cingular's confidence in Real to deliver our full range of mobile solutions to their customers." Over time, the Real offering will replace the current MobiTV service that Cingular offers customers in some markets.
"Mobile carriers want to be able to offer as many different services to their customers as possible," said Kagan. Non-voice revenue — from text messaging, ring tones and song and gaming downloads — is already one of the fastest growing parts of the mobile market, he added.