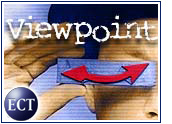 Call it the spillover effect. That's what happens when lame customer service online starts to impact how shoppers feel about a retailer's brick-and-mortar stores.
Spillover effect might be the best reason ever for retailers to do a better job answering questions and resolving complaints online.
Proof of the spillover effect came from Jupiter/Media Metrix in the form of a survey, showing that 70 percent of shoppers in the U.S. would spend less at a company's real-world store if they were unhappy with the service they received from the company's Web site.
This should come as no surprise. After all, for more than a year now, we've heard about how important it is for offline brands to leverage their high levels of name recognition and their substantial customer bases into online success.
So why wouldn't it work the other direction as well?
All Together Now
Unfortunately, there's a disconnect between the real world and the Internet for many retailers. For some reason, there's a widely held belief that what goes on in the Internet environment is separate from the rest of a company's business.
Businesses have operated under that mistaken belief for a long time. Witness the slew of dot-com spinoffs — Barnesandnoble.com and the like — that sought to actively divorce the retailer from their Internet divisions.
Of course, the motivation there was greed. The businesses that spun off their Web divisions were hoping to unlock the huge value with eye-popping IPOs.
Motivation Matters
But smarter companies have since come to realize that there is no imaginary wall, and that all channels have to operate together. Last week, office supplies retailer Staples said it would fold its Staples.com back into its catalog business, shelving plans for an IPO of the dot-com division.
It makes sense in the short-term, of course, since the IPO was going absolutely, positively nowhere overnight — or for that matter probably for the rest of this year.
But more to the point is the strategic message of keeping the dot-com business in-house. True, Staples may be bringing its Internet arm back into the main business to solve bookkeeping issues and avoid duplicating costs. Still, by combining its online and offline operations, the company is acknowledging that "Staples" and "Staples.com" are one entity in the eyes of the consumer.
Upside Potential
For retailers, the connection between the real world and the Internet is good news. The billions of dollars spent on branding and advertising, and all of the effort spent coming up with a unique and memorable logo and catchphrase, now can flow to the company's advantage on the Web.
But now retailers know that it's a two-way street. So how should they react?
First, brick-and-click retailersshould answer their e-mails — and quickly. They have to know now that if they don't, the customer awaiting a response is going to drive past their store next month and head straight either for a competitor who has not snubbed them online yet — or for the one that did a better job answering their Internet inquiries.
What else? Well, it's helpful, according to the Jupiter poll, if customer service reps know what they're talking about. And, more importantly in my book, if the reps actually have the authority to do something about problems. That's a big bonus.
Great Expectations
Customers told Jupiter that they have high expectations. All those purchases they've made in the store? They want to be able to reference them when they look to buy online.
Not a lot to ask, to be sure, but fewer than 20 percent of retailers offer company-wide purchase tracking, the study found.
Of course, everyone knew these things were important to being successful online. But now that everyone also knows that falling down on the Web could mean getting their knees scraped in the real world, we may finally see some action.
What do you think? Let's talk about it.

---
Note:
The opinions expressed by our columnists are their own and do not necessarily reflect the views of the E-Commerce Times or its management.
---