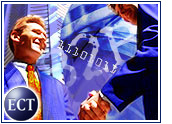 Razorfish (Nasdaq: RAZF) gained 21/32 to 6 7/32 Monday after the Web design and technology consulting firm said it will help Deutsche Bank build a platform for business-to-business (B2B) financial services marketplaces.
Stefan Hetges, managing director for Razorfish's Frankfurt, Germany office, called the plan a "groundbreaking project."
Razorfish reported $77.1 million in revenue for the third quarter, a 72 percent increase over the year-earlier period. Income before items totaled $900,000, or one cent per fully diluted share, down from $5 million, or 5 cents, in the year-earlier quarter.
The B2B marketplace is part of a continuing expansion at Deutsche Bank, which plans to bolster its online operations when it completes the planned acquisition of National Discount Brokers Group, Inc. (NYSE: NDB). Last month, the German bank agreed to buy the parent of online brokerage NDB.com for $49 per share.
"By partnering with Deutsche Bank, NDB will be able to leverage the global expertise and financial strength of an industry leader," said NDB president and chief executive officer Arthur Kontos.
The deal will put Deutsche Bank among the five largest Nasdaq market makers. The German company also has an online subsidiary, Brokerage 24, which will absorb the NDB.com operations. The companies expect to complete the merger by the end of the year.
The New York-based Razorfish also has offices in Amsterdam, Boston, Frankfurt, Hamburg, Helsinki, Los Angeles, London, Milan, Munich, Oslo, San Francisco, San Jose, Stockholm and Tokyo. Clients include AT&T, Disney/ABC, FAO Schwarz, Microsoft, Toshiba and PepsiCo.
The company recently embarked on what it is calling a "global performance improvement plan" aimed at boosting efficiency across its 15 offices.