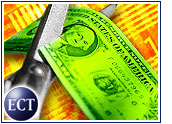 Razorfish, Inc. (Nasdaq: RAZF) was at US$1.66 in morning trading Friday, down 22 cents, after the company posted a loss for the fourth quarter ended December 31st.
The fourth-quarter results were in line with the company's revised projections. In December, Razorfish predicted a loss for the quarter, saying the market for its services had "changed dramatically."
The Internet consulting company said that revenue for the quarter fell 5 percent from a year earlier to $50.1 million, and that the loss before expenses and amortization totaled $19.8 million, or 20 cents per share.
A year earlier, the company reported pro forma net income of $5.8 million, or 6 cents per share.
"We have continued to build and align our business to face the challenges of a year filled with rapid change," Razorfish chief executive officer Jeff Dachis said.
Dachis said that while the company reflects on its first unprofitable quarter, it will continue to execute on its existing strategy to develop and deliver quality Internet services to its clients.
Razorfish said that it has added some key new clients during the year, including Ford, Cisco, Dupont, Nissan-Europe, 3Com and Sony.
On Tuesday, the company announced a plan to cut 400 jobs as part of a restructuring designed to save about $70 million this year. Razorfish also said it would concentrate on five key industries — financial services, technology and telecom, media and entertainment, manufacturing, and healthcare — in order to provide the best returns.
In addition to the job cuts, Razorfish said it would put in place "new incentive and compensation plans" for all levels of employees.