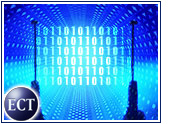 Qwest Communications and Sprint have jointly announced that Sprint will wholesale its PCS Vision voice and data services to Qwest customers under an exclusive agreement.
Sprint (NYSE: PCS) spokesperson Dan Wilinsky told the E-Commerce Times that this deal is a win-win opportunity for both companies. It offers Sprint a new sales channel, especially for PCS Vision's data services, and Qwest now will be able to offer its wireless customers more complete nationwide coverage.
Under terms of the agreement, Qwest will continue to supply sales and service support under its own banner at present. By early next year, it will transition current and new customers to Sprint's network.
Bundling Opportunities
Lisa Pierce, a research fellow at Forrester, told the E-Commerce Times that Sprint already has a similar partnership with Virgin Mobile in the United Kingdom. However, today's announcement marks the company's first partnership with a major U.S. landline provider.
Pierce said the agreement allows Qwest to offer its regional customers bundled services that could include some combination of local, long distance, wireless and DSL.
She added that Qwest did not have the necessary infrastructure to provide wireless services on its own because of the costs involved in doing so.
Sprint's Wilinsky said his company plans to build or acquire about 55 cell sites in Qwest's 14-state region, which covers the Pacific Northwest, the Rocky Mountain region and parts of the Midwest. Those sites should help close the gaps between Qwest's and Sprint's coverage in this territory.
Increasing Pressure
Meanwhile, Keith Waryas, research manager for wireless business network services at IDC, told the E-Commerce Times that "wireline" players like Qwest face increasing pressure as more people begin to use wireless options.
According to Waryas, a high percentage of Americans in high school and college now use wireless voice communications more than landlines. In fact, many of these people have always relied on their cell phones as their primary means of contact and do not see the need for a landline at all.
As this generation enters the work world, landline providers will need to add value to their core offerings to remain competitive in this shifting market, he noted, adding that people increasingly are thinking in terms of a single communications budget, rather than separate budgets for wireless and landlines.
How To Integrate
Waryas went on to say that companies like Qwest can take one of two approaches when integrating services. They can either provide the services and infrastructure themselves or partner with a company that has core competencies in the areas where they lack needed infrastructure.
For example, Sprint's all-digital network, which the company is presently upgrading, gives Qwest the ability to offer its customers better service without having to invest in this area itself.