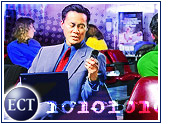 Sprint (NYSE: PCS) on Monday announced plans to offer PCS WiFi Access, a broad-based service that will let customers connect wirelessly to the Internet via either WiFi hot spots or its own Nationwide PCS Network.
Sprint PCS spokesperson Suzanne Lammers told the E-Commerce Times that the new service is expected to launch before September 30th, which marks the end of Sprint's fiscal third quarter.
By that point, the company expects the new service to be available in more than 800 locations at speeds 50 times faster than a standard dial-up connection. Another 1,300 locations are slated to be operational by year's end.
Entering the Public Space
Lammers said Monday's announcement is Sprint's first in the public space. Previously, the company concentrated its WiFi efforts mostly on the enterprise side.
However, the company is not moving too far from its enterprise roots. In this new venture, it is focusing on airports, hotels and convention centers — the sorts of places where mobile business professionals often congregate.
Sarah Kim, wireless and mobile technologies analyst with the Yankee Group, told the E-Commerce Times that Sprint's new service most likely will target early adopters and advanced users of mobile devices. In fact, she said going after these "road warriors" is a good move by Sprint.
Access Offerings
Lammers said Sprint's new offerings comprise a number of different facets. In addition to providing WiFi zones for customers, the company also will offer PCS Connection Manager software and an optional PCS Connection Card. This combination of hardware and software will allow users to connect to Sprint's Nationwide PCS Network — the same 3G network used by Sprint wireless phone customers.
Connection Manager will offer users a convenient means in which to connect either via WiFi or via Sprint's wireless network. However, Sprint still will require users to purchase a separate 802.11b card to take advantage of WiFi capabilities.
According to Lammers, Connection Manager provides "one-time setup" and can easily detect whether a user is in a WiFi hot spot. It also can supply a directory that lets users find out which types of mobile connections they can access from specific geographical areas.
The Yankee Group's Kim noted, however, that at this stage of market development, most users do not need seamless roaming unless they work in a mission-critical industry, such as health care or certain areas of public safety.
Lowest-Hanging Fruit
Kim added that Sprint is trying to cater to its primary customers. The company's "lowest-hanging fruit" includes broadband and enterprise users who need access outside of a traditional office.
Sprint also appears to be working to unify its brand in this new space, she said. In its quest to quickly build presence and brand recognition, the company is partnering with wireless access ISPs Airpath Wireless and Wayport to purchase wholesale time that the company later will sell to customers at retail. At the same time, Sprint is starting to build out its own network infrastructure, some of which it will sell at retail to its own customers or at wholesale to other WiFi carriers.
Kim said Sprint is making the decisions it needs to make to avoid getting burned in this market.
"If Sprint thought hands-down that its plan was the one, it would build the entire infrastructure itself," she said. "Instead, [the company] is relying on third-party partners to test it out."