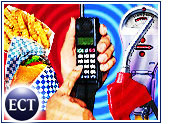 WiFi, a technology that enables wireless Web access at speeds many times faster than a standard dial-up connection, is cropping up in coffee shops, airports and hotels. It allows users to get online with their mobile computer or cell phone without endless configuration hassles.
But despite WiFi's increasing convenience, m-commerce, once seen as a promising way to sell goods, is unlikely to be a boon for retailers this holiday season — or next, or the one after that.
"I'm not expecting people to buy a lot of physical goods and services [via m-commerce]," IDC analyst Keith Waryas told the E-Commerce Times.
Web Sites Not M-Commerce Ready
Why aren't consumers clamoring to place orders on the go?
The answer is that too many obstacles currently stand in the way of m-commerce purchases, according to Paul Kellett, senior director of research at Pioneer Consulting. For example, most Web sites are not yet formatted to make viewing and purchasing easy via mobile gadgets. Screens and keyboards also are too small. And mobile security issues remain large and unsolved.
As a result, research is likely to remain the primary commerce-related use of WiFi-capable mobile computers, at least for the foreseeable future, Kellett told the E-Commerce Times.
Waryas agreed, noting that "the value is mobility and access to quick bytes of information, rather than transactions."
In fact, IDC has reduced its m-commerce revenue estimates for 2002 to a measly US$500 million, down from an earlier estimate of $2 billion.
Products with Promise
Still, some products have m-commerce potential, Waryas said. Online greeting cards that take advantage of new color screens on cell phones might work. And location-based services that help shoppers find the best prices on products in a specific geographic area could be a strong seller.
Waryas also pointed to Verizon Wireless' new "Get It Now" service as a potential m-commerce hit. It lets subscribers buy and download games and software to their mobile phones.
EBay also can be accessed via mobile device. The mobile auction model works well, according to Waryas, because it allows eager bidders to stay updated at all times.
However, both Verizon's and eBay's services can be accessed via a standard wireless connection; they do not require high-speed WiFi. Even though WiFi use is on the rise, it is still too early to track any corresponding rise in m-commerce.
Hot Spots Do Not Spur Hot Sales
But WiFi service providers are going to cash in even if retailers are not, according to Kellett. Pioneer has estimated that global WiFi service revenue will total $1 billion this year and will climb to $18.4 billion by 2008.
It is possible that Japanese mobile subscribers, who have access to i-mode services, may be more likely to partake of m-commerce. I-mode allows subscribers to use cell phones as electronic wallets to buy items. Purchase prices turn up on cell phone bills, which obviates the security concern over inputting a credit card number into a mobile device.
A few small companies in the United States are trying to turn cell phones into electronic wallets, too. Overland Park, Kansas-based Wirca makes an application that is being tested at Midwestern colleges to let students buy sodas with cell phones. And Wayne, Pennsylvania-based U.S.A. Technologies makes an application that lets cell phones operate washers and dryers in laundromats.
But widespread m-commerce, in which a buyer uses a cell phone or mobile computer to buy a shirt or lawnmower, is still mostly wishful thinking on the part of retailers. Even preeminent online retailer Amazon.com a few years ago launched, then quickly ditched, a specially designed m-commerce service for cell phones.
Waryas said he may have been the only person who actually bought something with it.