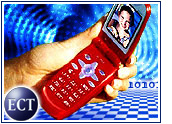 The 800-pound gorilla of PC chips, Intel, is now heading into the smartcell phone arena. The company just launched two new cell phone chips, and in 2003, it plans to launch a semiconductor lineup for wireless notebook computers.
Why is Intel seeking new terrain when it is the undisputed king of its traditional PC turf? The answer is that even though the wireless market is in a slump, it is still hotter than other technology niches. Intel does not want to miss the boat.
"Intel's vision is to have Intel silicon in all mobile devices," Intelspokesperson Christine Vermes told the E-Commerce Times.
Banias Boost?
Code-named "Banias," the company's new notebook chipset "is the first example of Inteldelivering a product that embodies the convergence of computing andwireless communications," according to Vermes. Banias offers long battery life and is suitable for thin, light devices. It also has WiFi capability for short-range, super-fast wireless connectivity.
The new Banias chipset is a complement to Intel's XScale line. XScale processors alreadyare used in many handhelds, such as those from Palm. But despite appearances, cell phones and handhelds may not be Intel's real target.
"Intel's objective is to do everything they can to use wirelesstechnology to enhance the sales of their computer microprocessors,"Gartner analyst Stan Bruederle told the E-Commerce Times.
Sparking Buyer Interest
Wireless connections let users access e-mail, play games and surf theWeb. As such, wireless technology is seen by Intel and many others as a way to jogconsumer interest in buying all types of computers and computer-cellphone combo devices. Such a surge, in turn, could boost sales of Intel PC chips, Bruederle said.
Research firm IDC estimates that some 90 percent of all mobile computerswill be wirelessly enabled by 2004. That convergence of wirelesscommunication and computing creates a potential sweet spot for bothIntel's PC chips and wireless chips. "All computing devices willcommunicate, and all communication devices will compute," Vermes said.
Intel Challenging TI
Most gizmos contain a variety of chips from different companies, according to Bruederle. While all wireless devices need communications, memory andapplications chips, the architecture differs greatly between cell phonesand PCs and notebooks. The same chips cannot work in all devices.
Xscale is part of Intel's effort to move into the baseband area, Bruederlesaid. Baseband chips, also called communications chips, are present in all wireless gadgets. Currently, the market for these chips is dominated by Texas Instruments, which holds more than 50 percent share.
TI's Open Multimedia Applications Protocol, or OMAP, chips are used in devices made by Fujitsu, Siemens and others, TI's vice president and general manager of OMAP, Alain Mutricy, told the E-Commerce Times.
On October 28th, Palm launched its new Tungsten handheld device, which usesOMAP. Its entrenched position and broad customer base will keep TI astep ahead of challengers, according to Mutricy. "So far, we've been able to do a better job than Intel," he said.
Besides TI, Intel also must contend with Motorola and Qualcomm, theother two of the top three wireless chipmakers. In 2001, Motorola soldUS$1.5 billion in wireless chips, Bruederle noted. TI sold $1.45 billion,and Qualcomm sold $1.4 billion. Intel and rival AMD did not even make the top 10.
Growing Chip Market
Gartner estimates that sales of semiconductors, including wireless ones,for handheld devices will grow from $16.3 billion in 2002 to $24.1 billionin 2005. In contrast, sales of PC chips, including wireless ones, will grow from $34billion this year to $48.5 billion by 2005.
PC chips tend to cost much more and generate more revenue than chips for cell phones. But the cell phone chip market is appealing to Intelbecause of the staggering number of units expected to be sold, said Bruederle. Only about 100 million PCs will be sold this year, compared with some 400 million cell phones. And by 2005, cell phone unit sales will surpass 500 million, he noted.
This is a market in which TI aims to maintain its dominance, but Intel also wants a larger piece of this lucrative territory. About a month ago, TI announced plans for a cell phone technology that combines many processors onto a single chip. It is set to hit the market in 2004, according to Mutricy. Intel has similar plans, he said, but they will not come to fruition until years later.