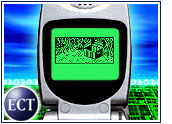 Sprint PCS and Samsung have jointly announced a new gaming accessory that will convert certain Samsung mobile phones into gaming devices. Called the PCS Game Pad, the add-on works only with Samsung's new A600 mobile phone, which was also released today in conjunction with the announcement. The phone retails for about US$350, while the Game Pad costs about $40.
The Game Pad will work only on A600 phones that are PCS-activated and whose users subscribe to Sprint's proprietary PCS Vision suite of data products, according to the companies.
The A600 slides into the Game Pad, turning it into a gaming terminal. The device comes with menu buttons that simulate a gaming console.
Yankee Group analyst Mike Goodman told the E-Commerce Times that mobile phone providers face challenges in attempting to fashion wireless handsets into gaming platforms because of navigation and input issues.
"Sprint deserves some credit here in trying to simplify the input process," he said.
Untapped Market
Goodman noted that a significant number of people already use cell phones as time wasters. The next step is to transform these devices into full-fledged gaming and entertainment platforms.
He also said there are approximately 82 million gamers ages 16 and over in the U.S. market. More than three-quarters of these gamers, who already spend a significant amount of time and money on games for PCs, handheld devices and gaming consoles, also have mobile phones. Therefore, it makes sense that providers like Sprint would want to tap into this established market.
Sprint spokesperson Jenny Stevens told the E-Commerce Times that from August 2002 to March 2003, PCS Vision subscribers downloaded more than 2 million games at an average cost of between 99 cents and $4.99.
Stevens said the Game Pad will take this interest to the next level due to its advanced features.
But Who Wants To Carry It?
However, IDC mobile devices analyst Alex Slawsby told the E-Commerce Times that while there is rapidly growing interest in mobile gaming, he is not sure users will want to carry a separate component just for gaming.
Though he praised the Game Pad's quality and low cost, Slawsby said, "If you want to slip your phone in your pocket, do you really want another accessory [that is] significantly larger than the phone?"
He noted that the market for mobile gaming is still in its infancy, and vendors deciding between selling combination devices or accessories like the Game Pad are "darned if they do and darned if they don't."
Phone First
Nevertheless, the mobile gaming market is still a critical one for vendors like Sprint and Samsung because gaming creates revenue for mobile data, Goodman said.
He noted that voice revenue is starting to decline, so vendors need to offset this trend with revenue from other sources.
Meanwhile, Stevens said that while Sprint is pleased with the quality of Game Pad, neither it nor Samsung would sacrifice the voice quality of the phone to play games.
"We are a phone-first company," he said.