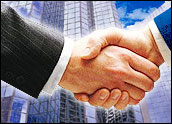 Seeking to expand its reach and to lock in more high-value business customers, Qwest Communications said Monday it would buy OnFiber Communications, a provider of custom-built high-speed network solutions for large businesses.
Qwest said it would pay US$107 million to acquire privately held OnFiber, which is based in Austin, Texas. Qwest also said it has the right to exchange up to $35 million worth of stock instead of cash for part of the deal.
OnFiber's solutions are high-bandwidth, all-fiber networks serving primarily large business and government clients. The firm's fiber optic network spans 23 large metropolitan areas and offers access and data transport services on Ethernet, SONET and Wavelength protocols.
"This is a sound, complementary deal for Qwest, OnFiber and both companies' customers," said Tom Richards, Qwest executive vice president, business markets group.
He added that more businesses would now have a choice of national carriers and that Qwest would continue with OnFiber's "efficient and cost-effective" approach to providing broadband network access. After integration, Qwest said it would realize $25 million a year in gains from the acquisition.
Investors were not blown away by the deal, with Qwest shares down slightly in morning trading Monday to $6.45.
Growing Up
OnFiber is on track to record 2006 revenues of about $60 million, Qwest said, with 20 percent annual growth. Qwest said the firm had per-employee revenue of nearly $450,000, with the average business customer generating some $17,000 a month in revenue for the firm.
Richards said the firm's growth is sustainable, with some forecasts calling for the Ethernet market to grow nearly 50 percent per year.
"Ethernet has been a high growth product for us in-region, and this increases our participation nationally," he said. "This expands our penetration in key markets throughout the country while reducing last-mile costs. It absolutely fits our criteria for a return-focused acquisition."
In addition to greater geographic reach, Qwest gets a toehold in some key industry verticals, including media and entertainment, financial services, software and healthcare.
OnFiber says it customizes a business' fiber-optics needs based on the applications being used, matching a business' data transportation needs with the right technology for the job.
Consolidation Consolation Prize?
For Qwest, OnFiber is a small fish compared to the big one that got away noted telecom analyst Jeff Kagan.
Qwest had been in the running to acquire MCI before that company's shareholders voted, after a lengthy bidding war, to support a takeover bid from Verizon, despite the lower total price tag on that deal.
One reason given was the relative financial health of the two companies, with Qwest still carrying significant debt on its balance sheet.
"In the scheme of things this is a smaller acquisition, but I think it will be strategic to helping Qwest expand their product offerings outside their 14 state region to the business marketplace," Kagan told the E-Commerce Times. "It extends the depth of their offerings."
Just as Verizon moved to acquire MCI for its business customers and strengthen with enterprises — a pattern SBC followed when it acquired AT&T — Qwest is eyeing national reach and traction among high-value enterprise customers, who need access to high-speed fiber networks and who are generally far more profitable than most residential customers.
"When Qwest tried to acquire MCI last year we knew other deals were going to be coming," said Kagan, adding that more acquisitions are likely in strategic areas.
Holding Out on the NSA
Qwest recently reported strong quarterly earnings, beating analyst expectations and posting its first profitable quarter in over a year. High-speed Internet access was seen driving that profitability, though analysts were quick to point out that revenue growth at Qwest was slower than that of key competitors.
More recently, the company has won fans among watchdogs and groups concerned about government spying after it was revealed that it's the only major national telecommunications carrier to refuse to cooperate with the National Security Agency's phone-call-record collection program uncovered last week.
AT&T and Verizon both reportedly turned over records to the NSA and on Monday, two New Jersey attorneys filed a $50 billion lawsuit against Verizon on behalf of its customers.