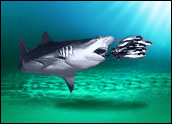 Not willing to give up its attempts to acquire the last large remaining long distance and corporate communications company, Qwest Communications said it would submit a revised bid for MCI in an effort to wrest the acquisition prize away from cross-country rival Verizon.
On Monday, Verizon announced it had reached a deal to acquire MCI for US$6.7 billion, despite the fact that Qwest had bid more for MCI. At the time, the Qwest's offer was said to be around $7.3 billion.
Yesterday, Qwest released a copy of a letter it sent to MCI's Board of Directors and revealed that its offer was worth closer to $8 billion. The letter from Qwest CEO Richard Notebaert also said that MCI would "submit a modified offer to acquire MCI."
New Offer Pending
The letter did not say when the revised offer would be submitted and analysts said it might not necessarily bear a higher price tag but instead some additional incentives made to address some of the factors that prompted MCI's board to favor the Verizon offer.
Verizon was seen by many, including some on MCI's board, as offering better long-term prospects. In terms of revenue, it's about four times the size of Qwest, and it has less debt and better cash flow and in terms of customers is the largest of the regional phone carriers.
MCI CEO Michael Capellas emphasized those points in announcing the proposed deal, saying the company would have a "brighter future" as part of Verizon.
While some analysts expected Qwest to immediately begin looking for another merger partner, there are few options available that offer the same access to long-distance and corporate customer bases in a single deal. The MCI buy, like the purchase of AT&T by SBC Communications, is considered a landscape-altering move, with ramifications for everything from consumer phone use to corporate and e-commerce access to the Internet.
Long and Short of It
A Verizon spokesman declined to comment on the new developments.
MCI also did not immediately respond to Qwest's letter, and it wasn't clear how willing the company would be to do a very public about-face. If nothing else, the bid could force Verizon to ratchet up its offer.
"I was surprised that MCI took Verizon's offer so quickly," telecom industry analyst Jeff Kagan told the E-Commerce Times. "They had two suitors. The best thing they could have done is drive the price up."
Other analysts think a price war is still possible, despite the public declaration of a winning bid by MCI. If nothing else, a higher deal could give stock holders, especially large institutional ones, reason for pause before they commit to tendering their shares.
"Verizon may ultimately be required to pay a higher price for MCI than its initial offer," Friedman Billings Ramsey analyst Michael Bowen wrote in a research note this week.
That, of course, would be good news for MCI shareholders in the short term. MCI stock shot higher as the bidding war possibility emerged. Today, the stock gained another 6 percent to $21.81.
Stay on the Line
Some MCI shareholders have already begun to make noise about what they feel is a bargain price for the company. Three of MCI's top shareholders — all of them investment banks — said this week that the board should take a second look at Qwest's bid or consider remaining independent rather than take what Verizon is offering.
However, other analysts say the long view has to be taken into account. Since both deals contained large amounts of stock, investors would benefit from linking with the company with the brighter future, that argument goes. Given its strength in local land line, DSL and wireless and its leading edge efforts to enter the television market, Verizon is often seen as the logical winner in that debate.
Either way, Kagan thinks the drama might play out for a while.
"MCI would benefit both Verizon and Qwest. So a smart company would play them off each other to get the best value for the shareholders," he said. "I think this will go back and forth for a while and then MCI will choose one or the other, but probably at a higher price. But not too much higher. The company is only worth one-tenth of what it was worth a few years ago."