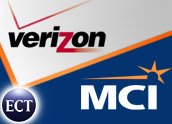 Using its deeper pockets and higher national profile to outlast a rival bidder, Verizon Communications has reached a deal worth around US$6.7 billion to buy No. 2 long distance company MCI.
The purchase price includes $4.8 billion worth of stock, $488 million in cash and another $1.5 billion in one-time dividends.
"This is the right deal at the right time," Verizon Chairman and CEO Ivan Seidenberg said. He added that Verizon had been "evaluating a transaction with MCI for some time."
'Right Partner'
MCI chose to accept Verizon's offer over the weekend, after two weeks of rumors and published reports that both Verizon and Qwest Communications had placed bids. Qwest reportedly offered as much as $7.3 billion during a brief bidding war, but MCI executives felt Verizon offered a better fit.
MCI CEO Michael Capellas, who was brought in to help steer the company back to health after it was plunged into bankruptcy by accounting and fraud scandals when it was known as WorldCom, said MCI is "the right partner" for Verizon to continue to grow.
Capellas — who now finds himself being mentioned as a replacement for Carly Fioina at HP — cited Verizon's "financial strength and record of operational excellence" and said the companies together will be able to more quickly expand the menu of services they offer customers.
Crown Jewels
As was the case with SBC Communications' $16 billion purchase of AT&T just two weeks ago, the prize for Verizon is MCI's nationwide high-speed network and its pool of about 1 million business and government customers.
MCI has long been rumored to be on the auction block as Capellas looked to recover value for shareholders who stayed with the company through bankruptcy reorganization. However, the sale of AT&T greatly accelerated the time frame for the purchase, independent telecom analyst Jeff Kagan said.
"Once AT&T was acquired, that left MCI, and that was going to happen quickly," Kagan told the E-Commerce Times.
Verizon, which is itself a result of the 2000 merger between Bell Atlantic and GTE, said it would be some time before the deal started to pay for itself, weighing down earnings for the next two years before it turns cash-flow positive on Verizon's books.
Some analysts believe Verizon will have to make additional investments in order to keep MCI's enterprise presence alive and well over time.
Any Deals Left?
Consumer groups are likely to raise concerns about the purchase, but regulatory approval is widely expected.
Forrester Research analyst Lisa Pierce said the two recent major acquisitions are likely to have less impact on the consumer markets than some expect and are more about enterprise services than anything. To capitalize on the business potential, however, "merger execution will be critical," she added. Pierce said businesses should revisit current contracts now to ensure they will see no disruption in services.
"And they should expect the wave of telecom supplier consolidation to continue," Pierce said.
Other analysts agree that it's unlikely the latest deal marks the end of the consolidation trend, which extends back to Sprint's $35 billion buy of Nextel in December and before that, Cingular's buy of AT&T Wireless.
Next Deal
In fact, while it's unlikely to find as high-profile a target, Kagan said Qwest would likely start looking immediately for the "next deal."
"I'd say the historic shift in telecom is underway, and now that it has started, it's happening quickly," Kagan said. "Telecom is becoming an industry of giants."