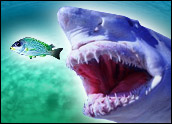 In what could be the start of a bidding war for the last major independent long-distance company and its roster of business customers, Verizon Communications reportedly is seeking to acquire MCI.
Verizon is reported to have floated what's being described as an "informal bid" of around US$6.3 billion, which is believed to be what Qwest Communications offered the long-distance company about a week ago.
None of the companies involved is commenting on the reports, which surfaced first in the Wall Street Journal today.
Rampant Speculation
MCI, which emerged less than a year ago from bankruptcy protection sought after it was ravaged by the dot-com collapse and the subsequent WorldCom fraud scandal (WorldCom was renamed MCI), has not yet formally responded to either offer, according to reports.
Speculation has been rampant that MCI would be acquired ever since SBC Communications announced it had reached a deal to buy AT&T for $16 billion.
That's because long-distance carriers no longer make sense as stand-alone companies in almost every case. However, the companies could be valuable assets to the onetime regional carriers who now have national reach with the wireless phone, high-speed Internet and even cable services they could bundle.
Independent telecom analyst Jeff Kagan told the E-Commerce Times that if competition is brewing for MCI, that's not a surprise. With AT&T spoken for and Sprint already well-diversified into mobile and other markets, MCI is the only immediately obvious acquisition target. On the other hand, regional carriers Qwest, Verizon and BellSouth could all benefit from buying it.
"There are more acquirers than companies to acquire," Kagan said.
Shares of MCI were down today, losing 2 percent to $20.49, but have gained more than $2 per share since takeover rumors began to circulate.
Early Lead?
Verizon is believed to be better positioned that Qwest to pull off the deal. It has much deeper pockets, including a higher market capitalization, and is generally on more solid financial footing.
MCI CEO Michael Capellas, the former CEO of Compaq, might want to encourage a bidding war to maximize value to MCI's shareholders.
"Capellas was brought into MCI to clean it up and get it ready for a sale," Kagan said, adding that most of the "housecleaning" at MCI is now complete.
Verizon might also have more to gain. It currently has no long-distance network. Qwest does offer long-distance services, but has few business customers, considered a necessary ingredient to sustaining profitability in the market long-term.
Still, as SBC did with AT&T, any winning bidder would be acquiring a company whose prospects are dimming. MCI and analysts who cover it project revenue will decline this year, dropping from $20.6 billion in 2004 to $17.94 billion. However, thanks to the bankruptcy reorganization and sharp cuts along the way, it is largely debt-free.
For the industry, the consolidation trend is a return to form, Kagan said. The market is picking up where it left off before the dot-com collapse.
"Things are starting to get really interesting in telecom once again. Telecom was hot with mergers in the late '90s, then things hit a brick wall thanks to WorldCom's fraud and to the downturn in Internet stocks," Kagan said. "Now that things are recovering on the stock market, the telecom industry is consolidating."
Differing Views
Though analysts say the consolidation trend simply reflects a changing industry and the steady impact of free-market mechanisms, consumer groups continue to express concern about the merger trend and its eventual impact.
The Consumers Union (CU) says consumer choice has been reduced to an either/or proposition in many markets, with customers forced to buy a full bundle of products from either a cable company or a regional telephone giant.
"The Bells and cable companies have become fixated with putting together large bundles of services that only the richest Americans can afford," Gene Kimmelmann, director of public policy at the CU, said. "This is simply not competition for the vast majority of Americans."
Kimmelmann called on Congress to "reconsider the deregulation experiment of the 1996 Act and give consumers the protection that market forces are failing to provide."
However, where some see a need for more regulation, others see the exact opposite.
Heartland Institute senior fellow Steven Titch told the E-Commerce Times that thinking about the new mergers in terms of the old "Ma Bell" monopoly ignores the massive changes in the industry, including still emerging trends such as VoIP.
Combined companies — be it SBC-AT&T, or Qwest/Verizon-MCI, "are in no position to dominate the industry," he said. "Not when VoIP companies like Vonage and Net2Phone have national footprints and are growing at triple-digit rates, or when cable companies can package TV, Internet and phone services in bundles."
"The overall health of the industry, and the interest of consumers, is best served if these companies are allowed the freedom to adjust to evolving market conditions," Titch added.
Past, Present, Future
Ironically, the drama over MCI's future plays out even as a dark chapter in its WorldCom past is being revisited in federal court in New York.
Former CEO Bernard Ebbers is accused of overseeing some $11 billion worth of bookkeeping fraud when the company was known as WorldCom. WorldCom eventually filed what was then the largest corporate bankruptcy in U.S. history.