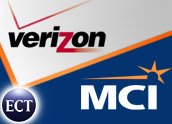 Possibly putting an end to a closely watched drama in the telecommunications space, MCI has accepted a sweetened takeover offer from Verizon Communications, a bid worth nearly US$1 billion more than an earlier offer but still well below the present value of what Qwest International is offering to acquire the long-distance company.
MCI announced early today that its board had voted to accept a revised offer from Verizon that adds more than $900 million in cash to the earlier offer and brings the deal to a total of about $7.6 billion.
More Cash Up Front
Verizon's revised offer includes $8.75 per MCI share in cash, $5.60 of which would be paid immediately upon closing of the deal, and $14.75 per share in Verizon stock. Verizon's first offer was worth around $6.7 billion and contained less up-front cash.
"MCI's board has been closely and carefully evaluating all of the recent developments," Nicholas deB. Katzenbach, chairman of MCI's board, said in a statement. "We believe Verizon's substantial increase in its offer, the strength of its competitive position and the financial certainty at close make this offer compelling to our shareholders, customers and employees."
Verizon, which had insisted that it makes a more logical partner throughout the bidding war, even casting aspersions on Qwest's claims of synergies and cost-savings, echoed that theme today. "Verizon and MCI together create a formidable and highly competitive company," Verizon CEO Ivan Seidenberg said.
It wasn't immediately clear whether Qwest would make another counter-offer or even take its case directly to shareholders by waging a battle for proxy votes when any deal is put to shareholders for approval. However, MCI's board might be eager to put the matter to rest, as the uncertainty in recent weeks has caused some volatility in its stock and it likely faces a future of shrinking earnings as a stand-alone company.
Mission Accomplished?
The extra cash in the new offer might help mollify some shareholders who had been critical of MCI's quick decision to accept Verizon's first offer without leaving the door open to a bidding war.
The decision to go with the new Verizon bid came just hours after Qwest issued a deadline of April 5 for MCI to accept or reject its new, higher bid. Qwest's offer is worth around $8.45 billion.
MCI executives have long argued that Verizon offers a better long-term fit because of its stronger cash position and its larger size.
"The most logical thing for MCI to do all along was to let things play out a while and see if they couldn't get a higher bid, which it appears they've done," telecom industry analyst Jeff Kagan told the E-Commerce Times.
Verizon was not seen overpaying for MCI, since the company gives it instant access to a large number of enterprise accounts, the type of cache in the business community that is seen as a key missing ingredient in an otherwise impressive portfolio of customers and services that Verizon boasts.
"The question now becomes where does Qwest look next," Kagan said.
Not Over Yet
MCI offered the same potential benefits to both Qwest and Verizon — the ability to instantly acquire an already built, business-class network that would take years and billions of dollars to build from scratch.
Kagan said more consolidation will occur in the industry, despite the fact that there are now few big players left to be acquired or merged.
In just the last six months or so, SBC acquired AT&T for $16 billion while, in the mobile space, Sprint and Nextel merged in a $35 billion blockbuster, while Cingular got the go-ahead to buy AT&T Wireless for around $41 billion.
While the MCI merger is small by comparison, it might represent a point at which some companies might need to change strategies in order to grow. Most analysts agree that scale is necessary to be able to offer customers the range of services they want at a price that is profitable.
Future for Qwest
Qwest could turn its attention to acquiring regional carriers, or it could focus on building its own business customer base.
Most analysts believe the company will need to do something to expand beyond its role as a regional provider of local calling services — and the smallest of the onetime Baby Bells.
Rolling up more regional carriers to expand its footprint is one option, according to analysts, but might be a risky strategy, since that is the very segment of the industry being hardest hit by changes in consumer behavior, such as the replacement of land lines with mobile phones as well as VoIP.