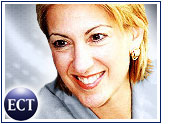 Hewlett-Packard Co. (NYSE: HWP) was down 1.25 at 31.125 in early tradingFriday after the company lowered expectations for the first quarter endingJanuary 31st.
The Palo Alto, California-based computer maker said "worsening economicconditions" and a slowdown in U.S. corporate and consumer informationtechnology (IT) spending will lead toearnings of 35 to 40 cents per share in the quarter.
"Underlying the financial guidance we provided in early December were coreassumptions about the condition of the consumer and enterprise ITmarketplaces," said chief executive officer Carly Fiorina. "We anticipated a slowdown in U.S. consumer IT spending andcontinued strength in enterprise IT spending, all in the context of theprevailing view that the U.S. economy was headed toward a soft landing."
Fiorina added: "It's clear there's been a significant change in market conditions in recentweeks. Consumer spending in the U.S. has been beloweven our own conservative estimates and our enterprise customers –responding to the growing economic uncertainty — have become increasinglycautious about IT spending."
According to Fiorina, Hewlett-Packard is "not counting on improvement" during the first half of its fiscal year. Fiorina predicted that the company's revenue will grow in the low to mid-single digits with gross margin at 27.5 to 28.5 percent.
The company is staying focused on achieving earnings targets "by aggressively pursuing profitablegrowth opportunities and effectively managing expenses," Fiorina said.
Fiorina also said that despite the current macroeconomic trends, Hewlett-Packard "remains confident" in its strategy, product portfolio and financial strength.