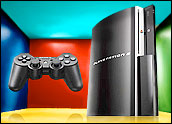 Consumers sent the video game hardware and software industry a US$1.33 billion valentine for the month of February, a 34 percent increase over sales during the same time period in 2007, according to figures released by the NPD Group, an independent market research firm.
The Wii's reign continued as the No. 1 video game console, while Sony's PlayStation 3 (PS3) beat out the supply-constrained Xbox 360 for the second month in a row. Gamers picked up 281,000 PS3s versus 255,000 of the Microsoft-made consoles.
Sony's boost in sales represents a 120 percent improvement over February 2007, the company said.
"The Sony PS3's increasing popularity is due to two reasons. One, the price cuts over the last six months. Two, the fact that it integrates a Sony Blu-ray high definition DVD player," said Brian O'Rourke, an InStat analyst.
Nintendo Weakening?
Nintendo also scored big with the portable Nintendo DS. The portable gaming device logged in unit sales just under 588,000 in February. That number is more than twice the 243,100 PlayStation Portables sold.
When added together, Nintendo's Wii and DS sales numbers accounted for nearly half — 47.6 percent — of all hardware sold, the game maker pointed out. That means that off the $480 million worth of hardware sold in February, Nintendo devices brought in some $228 million.
"DS is hugely popular with many segments, from young girls to retired adults in Japan, and the title portfolio for the game is very broad. Nintendo has done a great job with the DS," said Van Baker, an analyst at Gartner.
Although the Wii is still wildly popular, Wii titles appeared only twice among the month's top 10 sellers — "Wii Play With Remote" at No. 3 (approx. 290,000 units sold) and "Guitar Hero III: Legends of Rock" at No. 5 (approx. 223,000 units sold). Will game makers begin turning away from the console?
"Casual gamers are still attracted to the Wii, but it's attach ratio is poor compared to Sony and Microsoft, so the third-party publishers may see their interest wane," Baker told the E-Commerce Times.
Supply, Meet Demand
Microsoft's third-place finish in monthly console sales may relate to reported supply problems. The console maker plans to have its difficulties there solved in time for the April release of "Grand Theft Auto 4" ("GTA IV").
However, don't look for Microsoft to extend its recent round of Xbox 360 price cuts in Europe to the U.S. before summer, Baker said.
"Microsoft's price drop in Europe should help them gain traction, as it was in preparation for the 'GTA IV' launch," he noted.
Although sales for Microsoft's Xbox 360 floundered a bit in February, games for the platform dominated the software market. Activision's "Call of Duty 4: Modern Warfare" lead; coming in at the No. 2 spot was Capcom's "Devil May Cry 4." "Lost Odyssey," "Turok" and "Rock Band" were seventh, eighth and 10th, respectively.
PS3 Surge
The culmination of the high definition DVD format war, wherein HD DVD backer Toshiba lost to Sony's Blu-ray format, was a component in the PS3's improved sales.
"Any spike is more likely due to the HD DVD/Blu-ray format war being settled, so people that are interested in movie watching on the console may have decided to go ahead with their purchase of the PS3. Based on the volume this effect appears to be minimal," according to Baker.
For consumers Interested in purchasing a Blu-ray player, however, the two-in-one attractiveness of the PS3's price could be a strong incentive.
"The PS3 now costs just a little more than a standalone Blu-ray player. That makes it an outstanding value," O'Rourke told the E-Commerce Times.
Sony, however, will not be able to bank on Microsoft's supply issues or its inclusion of the Blu-ray player to boost sales in the coming months. With only one title available on the PS3 — "Devil May Cry 4" — cracking the top 10 games list in February, Sony has some much needed work to do to beef up its library of games for the PS3.
"[The PS3's sales in February] has little to do with the title library, as Microsoft has a bigger library. Also, sales of the games indicate only one game for the PS3 in the top 10," Baker noted.
"This will not give Sony any permanent advantage, and both [the Xbox 360 and PS3] should spike when "GTA IV" ships. Sony needs a hit title for the PS3 that is exclusive and that is not on the horizon," he added.