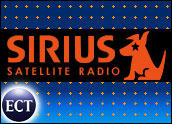 The New Year has quickly brought new efforts by satellite radio providers XM Satellite and Sirius to win subscribers and grab market share in the rapidly emerging business.
XM used the Consumer Electronics Show to roll out several new products, including hand-held radio players meant to make it easier for listeners to carry their satellite radio with them wherever they go.
Sirius, meanwhile, announced that it would see faster subscriber growth this year, a bump it attributed in large part to the hiring of Howard Stern, who next week begins to broadcast exclusively on the satellite network. In fact, Sirius said Stern would be granted some 34 million shares of Sirius stock — about US$220 million worth based on current prices — for making subscriber targets.
Banking on the 'King'
Sirius is hoping Stern will be the springboard for a subscriber jump that will help it gain ground on the larger XM. Sirius said it was on track to grow to 6 million subscribers by the end of 2006, nearly doubling the size of its audience from 3.3 million at the end of 2005.
Sirius said the fourth quarter of 2005 was stronger than expected, with 1.1 million new sign-ups, compared to its forecast of around 800,000.
XM continued to roll up subscribers as well, adding around 900,000 in the fourth quarter and making its goal of reaching 6 million subscribers total by the end of 2005, according to data from the company.
The announcements seem to point to the satellite radio battle heating up significantly during 2006. Analysts say the fact that more new cars are being built with one or the other satellite receiver built in and with strong sales of receivers in the holiday period, the two companies will seek to move their product into the mainstream this year.
"Satellite radio is very hot and is continuing on pace to be one of the fastest growing products in consumer electronics history," said Sirius CEO Mel Karmazin. "The industry has over 9 million subscribers today and added nearly 5 million new subscribers in 2005."
Shock and Awe
XM's product blitz includes hand-held satellite receivers that also double as MP3 players. The Samsung Helix and the Pioneer Inno will both retail for around $400 and will have a bookmark feature that allows listeners to bookmark songs for later purchase as well as a tie-in with the Napster portable music service.
The XM2GO line of products joins a field that already includes Sirius-compatible handhelds and additional competition from the likes of phone makers who are starting to roll out devices that can stream music from the Internet.
"When you combine live XM Radio with a portable MP3 player that lets you buy songs you hear on XM from Napster, you have a 360-degree music experience," said XM CEO Hugh Panero. "Now you can get the best of both worlds in a single device that fits in the palm of your hand."
Analysts expect more products from the satellite companies, which may be forced by competition to eventually resort to giving away hardware such as receivers much as cell phone companies have long done.
Splinter Groups
The fierce competition for subscribers and to sign up exclusive content deals is proving a burden on the bottom lines of the satellite companies, both of which reported losses of around $100 million in the third quarter of 2005. Analysts say both companies also have relatively high customer acquisition costs as they market heavily to introduce what is still new technology to many consumers.
Jupiter Research analyst David Schatsky said the fragmentation is accelerating thanks to the Internet and other technology, with individual shows and direct digital feeds now available.
"These changes will threaten established practices and entrenched interests in the media and advertising sectors, but consumers will benefit and ultimately, companies that can ride this wave will benefit as well," Schatsky said. "No one really knows what the media landscape will look like ten years out."