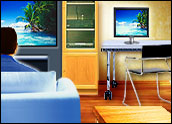 Pre-roll video ads are about to get smarter, according to OwnerIQ, a digital advertising company that is adding targeting data based on consumer browser behavior to online video ads.
The new targeting capabilities borrow from tactics developed for display advertising that try to zero in on a prequalified audience.
The new pre-roll product from OwnerIQ lets advertisers target shoppers based on data derived from e-commerce sites. It helps brands identify consumers who have demonstrated intent to buy certain products.
OwnerIQ's capabilities build on the company's Path to Purchase targeting solutions including the company's demand side platform OPTMS, an optimization and predictive technology that helps target ads.
Pre-rolls — ads that air prior to an online video — are highly sought ad formats. In a recent quarterly report from TubeMogul, 15-second pre-roll ads were shown to have a completion rate as high as 85 percent for what the organization classifies as "tier one" websites. Completion occurs when a consumer watches the full length of the ad, instead of skipping the ad when the option is given.
Targeting Pre-Roll
The new targeting for pre-roll units means that brands can buy ads based on a history of product searches. Data comes from relationships OwnerIQ has with retail, manufacturing and publishing partners, which the company is unable to name at this time.
"We have unique relationships with retailer and e-commerce websites," OwnerIQMarketing Vice President Steve Ustaris told the E-Commerce Times. "We are trying to zero in on audiences, so brands can get their message to them."
Previous targeting for pre-roll ads stops short of behavior. The primary categories for targeting include geotargeting and demographics. Some publishers are able to offer interest-based targeting — content targeting in which advertisers choose the programming where ads will be shown.
OwnerIQ is partnered with the major pre-roll inventory exchanges, and will apply its level of targeting so advertisers can access a more relevant consumer audience. Now ads will be shown to what Ustaris calls a "prequalified audience."
TV Ads With Display Qualities
The idea of targeting ads based on browsing history is not new, but it is to the pre-roll category.
Display advertising has used similar tactics, where inventory is targeted based on data from e-commerce partners. Facebook recently made a dealwith several Big Data partners to help target its advertising to consumers based on similar online and offline behavior.
The ability to target pre-roll ads helps optimize ad inventory. It puts ads in front of the consumers who are most interested.
"Sound, sight and motion is still a great way to get the message across. You're able to entertain the audience," said Ustaris. "Online, pre-roll is a good compliment to television buys. It is someone who is initiating digital content. The issue with it is that there is a lot of video on the Web produced by users, there is a lot of waste there. You are reaching audiences that have no interest in your brand."
Ustaris suggests that online is a good platform for targeting because watching video is an "on-demand" activity where the user initiates the video.
Complimenting Television
With these new targeting capabilities, pre-roll has the potential to be more targeted than television and print. It doesn't threaten the offline channels, yet offers the oppportunity to complement them in media planning.
Recent research from the Interactive Advertising Bureau found that moving a percentage of TV media buying budgets to online helps improve the TV ad spend. Applying better targeting to online units helps stretch media budgets by putting ads in front of audiences that are more likely to respond.
Media buying agency Carat has shown early interest in the new targeting capabilities for its ability to compliment TV media buys.
"Pre-roll is hugely important. We have been very supportive of digital video in the changing landscape of consumer behavior," Nick Vallante, media director at Carat, told the E-Commerce Times. "Television is hugely important in driving exposure on the mass level. That is important for brands and their retail partners. From our perspective — from an advertiser's perspective — we're always looking for an edge."
New targeting abilities in pre-roll will help brands do more with their TV and other media buying.
"TV is really important for driving reach and creating the impact exposure brands look for. Yet it's broad," said Vallante. "This allows us to extend and compliment our campaigns, to have that layer of targeting in looking for that individual to buy our products."