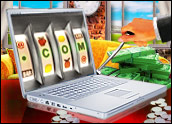 The Poker Players' Association (PPA) took its fight to reform online gambling laws to lawmakers on Capitol Hill this week when more than 100 poker players took to the capitol. Professional poker players including Vanessa Rousso, Howard Lederer and Victor Ramdin joined PPA executives in Washington, D.C., to drum up support for two bills currently moving through the legislative process.
The group met with sponsors of both bills as well as members of Congress who have yet to be convinced that the Unlawful Internet Gambing Enforcement Act's (UIGEA's) blanket ban on online gambling should be altered.
"I think we had a very successful event and were able to elevate the issue in the minds of lawmakers and also elevate the fact that there is a growing and vocal constituency of poker player out there who'd like to be able to play," said John Pappas, executive director of the PPA.
More Skill Than Chance?
Poker enthusiasts, including the PPA's 800,000 professional and amateur members, are working to convince members of Congress that poker, unlike blackjack, roulette and other casino games, is more a game of skill than of luck. They say poker is more properly grouped with games such as bridge and backgammon.
"The game is completely reliant on mathematics, logic, reasoning, money management and psychology," Pappas told the E-Commerce Times. "The mere fact that I can sit and debate with you who the top poker player in the world is, but you and I couldn't sit and debate who is the best lottery picker or the best roulette player in the world, is a strong indication."
Classifying poker as a game of skill is key to the PPA's efforts. The federal government has in general left it up to states to decide what types of gambling will or will not be outlawed. Many states base their legislation on whether a game is largely one of chance or skill.
Gambling With the Law
Both Rep. Barney Frank, D-Mass., and Rep. Robert Wexler, D-Fla., have introduced legislation designed to ease restrictions enacted under UIGEA, passed by Congress last year.
The law makes it unlawful for banks and credit card issuers to process payments to Internet-based gambling businesses outside the U.S. for the types of gambling that violate federal, state or local statutes. Online poker is still technically legal; however, without actual cash on the line, Pappas said, the game is diminished.
"The wagering and making decisions based on what your wagers are are a significant part of the skill of the game. Whether you're playing for pennies or dollar bills, there has to be some sort of corresponding loss for you to make in order for you to make appropriate decisions," he explained.
If passed, Franks' proposal, the Internet Gambling Regulation and Enforcement Act, will replace the total ban on all forms of gambling with regulations that would require companies seeking to provide the service to undergo criminal background checks and financial disclosures. The licensing and regulating mechanism created by the bill is intended catch those intent on pursuing unscrupulous activities as well as protect minors and problem gamblers while at the same time allowing "responsible adults" to enjoy online poker, according to the PPA
HR 2610, the Skill Game Protection Act, proposed by Rep. Wexler, is more narrowly focused on games of skill, such as mahjong and bridge, as well the companies providing these online games. The bill would require these businesses to install age verification technology to prevent minors from accessing for-money play, flag compulsive users and provide counseling referrals, prove they are not at risk from money laundering by criminals or terrorist and collect applicable taxes.
'Perfect Storm'
The National Coalition Against Legalized Gambling (NCALG) calls Internet gambling, including poker, a "perfect storm of harm."
"It brings together all of gambling's addictive power and mixes in the greatest potential for crime, corruption and economic instability," according the group's Web site.
"We feel that there's been enough studies that show that putting these games online is one of the most addictive forms of gambling. The studies show that the faster the play, the more addictive it is," Dr. David Robertson, NCALG spokesperson, told the E-Commerce Times
Poker advocates love their game, but what makes it great is sitting across from other players who could be bluffing and outwitting them. Online poker contains none of the elements that make it a compelling game in real life, he said.
"Legalizing any form of Internet gambling is like opening a mainline for addiction into schools, homes and businesses," he continued.
To legalize this is the worst possible thing the U.S. could do, according to Robertson. The only people pushing for this legislation are those who stand to make millions or even billions of dollars from online gambling, he asserted.