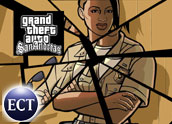 "Grand Theft Auto: San Andreas" has become the second computer game to be a victim of Internet pirates in less than a week. Illegal copies of Rockstar Games' much-anticipated title, its manual and its cover are popping up all over the Web just days before its official release.
This follows online pirates theft of "Doom 3" and "Half-Life 2" in August and Microsoft's Xbox game "Halo 2," recently stolen and distributed over the Web three weeks before it was suppose to hit retail store shelves.
Both companies are in pursuit of the gaming robbers. While Microsoft has made it clear that it is "aggressively pursuing the source of the illegal act," Rockstar has vowed to "diligently and aggressively pursue this matter."
Not New Problem
"The proper authorities are investigating the theft and are continuing to investigate all possible leads to ensure there is no further dissemination of our creative content," Rockstar company officials said in a statement.
"Downloading, possession and distribution of 'Grand Theft Auto: San Andreas,' including making the game available on the Internet, is theft," the officials said.
Despite the recent gaming piracy headlines, however, Yankee Group analyst Mike Goodman told the E-Commerce Times that this is not a new problem. It's just become a high-profile issue because of the recent popular titles hijacked.
The question is not how the piracy is occurring — the last few cases have been internal leaks. It is a matter of how much is this really costing gaming companies?
"When you talk to a content company they want to say that every game downloaded costs them a sale," Goodman said. "But the reality of it is that a large percentage of those people probably wouldn't have bought [the game] in the first place."
Using "Halo 2" as an example, Goodman noted that while the long-awaited title was leaked three weeks before its release date, Microsoft has 1.5 million pre-orders for the title.
Bottom Line: Control
"Where I think there is a much bigger impact on piracy is in Asian countries where they actually press disks and sell them in stores and on the street," he said. "That is a much larger piracy problem."
The bottom line with piracy, analysts said, is that it will probably never be completely stopped. The goal for many companies is to keep it under control, Goodman said.
"An internal leakage is a much more difficult leak to plug than providing strong encryption for the content once you release it," Goodman said. "How do you stop that?"
Rockstar officials said the theft would not change release plans for the new game, which is due in U.S. stores on October 26.