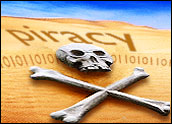 The campaign was created to promote the band Ghost Beach. However, the name of the campaign is "Piracy Is Progress," and it asks people to take a stand on the issue of downloading copyrighted music for free. That includes the chance to vote in favor of piracy at the website ArtistsVsArtists.com.
A major clothing retailer, American Eagle, and the ad agency TWBA/Chiat/Day — responsible for the legendary "1984" commercial for Apple — are behind the campaign, which is highlighted in the latest USC Annenberg Lab Ad Transparency Report.
Since January, the lab has been examining ads that appear on piracy websites and listing ad networks and major brands that show up on those sites. Some ad networks have been able to block those sites, but others are having less success, said Jonathan Taplan, Annenberg Lab director. That means major brands which may have taken a public stand against piracy are showing up on sites that may offer free downloads for non-copyright compliant content.
The "Piracy Is Progress" campaign is cited by the Lab for its use of the piracy controversy to sell music. It takes issue with the involvement of American Eagle and TWBA/Chiat/Day.
The Ghost Beach Campaign
The "Piracy Is Progress" campaign, instead of promoting the American Eagle clothing brand, promotes Ghost Beach. A billboard running in Times Square, within camera view of MTV's windows, directs people to the website ArtistsVsArtists.com and asks site visitors to take a side by tweeting to one of two Twitter hashtags: #artistsforpiracy or #artistsagainstpiracy.
At presstime #artistsagainstpiracy had 432 tweets, and #artistsforpiracy had 3,169 tweets, according to a counter on the website. The site also gives visitors a choice of two ways to download Ghost Beachs's album: either pay for it via iTunes or download it for free.
The campaign, meant to start a conversation, draws deep feelings from artists and industry executives.
"The 'Piracy is Progress' is an egregious and entirely selfish shame. Ghost Beach and their backers, American Eagle and TWBA/Chiat /Day are taking advantage of the creative class to promote their own interests, and they should be ashamed," said Josh Crandall, principal analyst at NetPop Research. "The architects of this campaign are aware that Creative Commons licenses achieve their intended goal of promoting sharing online without undermining the value of copyright in a post-industrial, service based society," Crandall told the E-Commerce Times. "By exploiting a term like 'piracy' for their own gain, the responsible parties are harming themselves, and the creative class in general, a disservice in the long term."
Some tweets don't line up with the hashtag. The conversation isn't about piracy as much as it is about changing the model in which music is distributed and monetized.
"The problem with the whole #artistsforpiracy thing is that if you chose to give your album away it's not piracy," tweeted @jason_tate, the founder of website absolutepunk.net.
"They're getting people to talk about it, which is a good thing," independent tech analyst Billy Pidgeon told the E-Commerce Times. "One positive thing to come out of this is that there's some discussion going on, and people are looking at it."
Other bands have offered their music free through legal downloads, or supported illicit downloads on websites. Neil Young has placed his tracks on sites that have drawn the disapproval of the music industry. "[Some artists believe] music should be distributed free, and can accrue money from live performances, licensing, radio and use in films," said Pidgeon.
On the antipiracy side, "every pirated song is a song stolen. Where piracy people say it doesn't hurt anything or change anything," he said. "There've been studies that show that people who download a lot tend to buy more music than people who don't. It's an interesting debate."
A separate issue involves advertisers paying for ad impressions to support sites where users can download songs illegally for free.
TWBA/Chiat/Day declined to comment for this story. The band Ghost Beach did not respond by presstime. The ad agency, however, did have a dialog with Taplan.
"They claim it's not promoting piracy, it's saying 'Which do you think is better? Stealing or not stealing?' To me, it's appalling," Taplan told the E-Commerce Times.
Government Ads Raise Eyebrows
The Annenberg Lab report also identified a number of ads on piracy sites for government-related organizations, including the U.S. Army and National Guard. The government agencies responded to the findings, saying that the ads weren't paid for by the Ad Council, the non-profit group that puts together public service announcements for them.
"It's nonsense. The Ad Council doesn't charge the government to make those ads," said Taplan. "I just know that the Kim Dotcoms of the world are not in the charity business. Pirated websites aren't giving those ads away for free. Somebody is paying. Whatever the Ad Council says, it doesn't compute."
Taplan also points out that the government has taken a stand against piracy. "There is a mixed message here."
The Lab's Findings
Ad networks such as Propellerheads, Exoclick, Infolinks, Adcash, Admxr, Yahoo/Right Media and Sumotorrent make up the top ten list in the March edition of the USC Annenberg Lab report. Three ad networks make new appearances: Adsrevenue, Adserver and Trix.net.
Some ad networks have made a conscious effort to block piracy sites from operating on their systems. Those include Google, Quantcast and Open X, all of which appeared in the first report.
"In terms of the ad networks, there's been huge progress," Taplan told the E-Commerce Times. "[Networks] are all making efforts to block pirate sites. I'm really heartened by that."
Certain brands have also revamped their media buys so that ads wouldn't run alongside the illegal activity of downloading pirated content. The report commends Levi Strauss as one of the brands that has made sure its ads do not appear on pirate sites.
"In terms of the brands, with the exception of Levi Strauss, they've been less forthcoming," Taplan said.
Major brands that the Annenberg Lab said have their ads running on piracy websites include Amazon, American Express, Chevrolet, HP, Ikea, Pizza Hut, Target and Verizon.