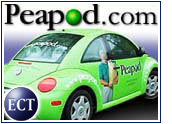 Online grocer Peapod (Nasdaq: PPOD) said Tuesday it will hand over its pack-and-ship service to Netgrocer.com, in order to focus on local markets.
Chicago, Illinois-based Peapod said Netgrocer's services will replace "Peapod Packages," which enabled customers to purchase certain non-perishable items that were then delivered by United Parcel Service (UPS).
"Having reached operating profitability in our Chicago operation, our priority is to achieve the same goal in our other home delivery markets," Peapod president and chief executive officer Marc van Gelder said.
Under the agreement, Peapod Packages customers will be directed to Netgrocer starting May 15th. Financial terms of the partnerships were not disclosed.
Retraction Policy
Like most other online grocers, Peapod has abandoned an ambitious expansion plan in favor of focusing on a few core markets, most recently packing up its San Francisco, California operations in early March.
In addition to Chicago, Peapod now serves Boston, Massachusetts; Long Island, New York; southern Connecticut; and the Washington, D.C. area.
One of the first online grocers, Peapod has been able to survive due mainly to the backing of Royal Ahold, the Dutch grocery holding company that started funding Peapod last year.
Peapod's profitability in Chicago is due in part to its purchase earlier this year of Streamline.com's assets in that city after Streamline folded operations. However, Peapod has continued to lose money in its other markets and needed an additional US$30 million from Ahold to avoid running out of cash.
Groceries by Mail
Netgrocer, meanwhile, focuses on delivery of packaged items nationwide, with an online grocery store, a drug store and a pet food store. Netgrocer uses Federal Express for most of its shipments.
"This is an excellent opportunity for us to introduce the Netgrocer brand … to a new customer base that is already adept at purchasing groceries online," Netgrocer.com president Lisa Kent said.
Glimmers of Hope
Most of the news from the online grocery industry has been bad, including such recent announcements as Webvan's April 26th decision to cut 880 jobs and leave the Atlanta, Georgia market.
However, there are some signs that attitudes toward the services are starting to change. A recent survey by the University of Georgia found a sharp spike in the number of people already buying or willing to buy groceries online, with nearly 80 percent saying they would try the service.