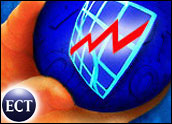 Worldwide personal computer sales grew by as much as 13 percent in the first quarter, with consumers in the United States helping to push sales above forecasts, and with some rivals gaining ground on longtime market leaderDell.
Preliminary data show 57 million PCs were sold in the first quarter, 13.1 percent ahead of the same time frame last year,Gartner said. Rival research firmIDC put the growth at 12.9 percent, more than a full percentage point above its forecast.
The growth is lower than a year ago, but was enough to outpace the most recent forecasts from both firms.
Price cutting among PC vendors has driven advertised desktop prices as low as US$299, helping convince many U.S. consumers to buy, noted Gartner analyst Charles Smulders. "In the U.S., desktop consumer market demand increased in response to renewed price competition," he said.
Among vendors, Dell was seen by both firms as falling off the growth pace. Dell had shipment growth of 10 percent, according to Gartner, its weakest growth rate in almost five years.
Shifting Market
Hewlett-Packard and Gateway were the big winners in the quarter, IDC analyst Bob O'Donnell said, with their growth coming at the expense of both Dell and Lenovo, which is in the midst of absorbing the IBM PC line.
The result was a drop in Dell's market share from 16.9 to 16.5 percent, while HP's share grew from 13.8 percent a year ago to 14.9 percent in the first quarter, according to Gartner. IDC's numbers tell basically the same story, with Dell market share pegged at 18.1 percent in the first quarter versus 18.5 percent last year, and HP currently at 16.4 percent compared to 15.1 percent in the year-ago period.
"Hewlett-Packard significantly narrowed the unit share gap between it and Dell on a worldwide basis compared with a year ago," Gartner's Smulders said.
All worldwide markets expanded, with demand in China helping to account for a 20 percent growth rate in the Asia-Pacific region, IDC said.
Looking Ahead
Vendors face tough decisions ahead. For example, strong growth in the Europe, Middle East and Africa (EMEA) market made it the top region in terms of sales. However, many firms cut prices to boost sales in that market, which may force some companies to give up profitability to retain or gain market share.
In the U.S. and other markets, meanwhile, laptop PCs will continue to surpass desktops in terms of sales growth, as more consumers make mobile computing their "dominant platform," said Richard Shim, another IDC analyst.
"Declining prices, improving performance and battery life, and widescreen displays in notebooks are luring new buyers and upgrades while stunting desktop PC growth," he said. "This surge will likely bring closer the day that notebooks outship desktops in the U.S."
Gartner noted that the quarter was also a good one for Advanced Micro Devices. The No. 2 chipmaker continued to gain ground on Intel, Smulders said, with the seventh straight quarter of higher growth.