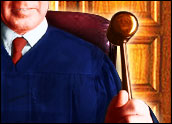 Apple v. Does — a case with broad implications for bloggers and journalists and their right to protect the confidentiality of their sources — began on Thursday before a San Jose, Calif., appeals court.
Apple Computer has sued several unnamed individuals, called "Does," for allegedly leaking information to online reporters, in this case, bloggers, about an upcoming product code-named "Asteroid."
The trial court held that if a journalist publishes information a business claims to be a trade secret, this act destroys constitutional protection for the journalist's confidential sources and unpublished materials.
Apple could not immediately be reached for comment.
A Free Internet Frontier?
As part of the suit, Apple has subpoenaed Nfox, the ISP for PowerPage publisher Jason O'Grady, demanding that the ISP turn over the communications and unpublished materials O'Grady obtained while he was gathering information for his articles.
Apple has also been granted permission to issue subpoenas directly to Electronic Frontier Foundation (EFF) clients PowerPage and AppleInsider for similar information.
EFF co-counsels Thomas Moore III and Richard Wiebe asked the appeals court to restore the well-settled constitutional protections for a journalist's confidential information.
"The California courts have a long history of supporting and protecting freedom of the press," said EFF staff attorney Kurt Opsahl. "We are looking forward to the opportunity to ask the Court of Appeal to correct a ruling that endangers all journalists."
Endangering Journalists
Just who is endangered is the point of contention. The case actually magnifies tension between two laws — the First Amendment and the rights of trade secret owners to protect their intellectual property, according to Ian Ballon, an intellectual property attorney and shareholder in the Silicon Valley office of Greenberg Traurig LLP.
Ballon is intimately familiar with these issues, having obtained the only reported decision in California (MCSi, Inc. v. Woods) where a company prevailed against an anonymous Internet poster.
"This case presents the tension between property rights and speech. When disclosure also presents a misappropriation of trade secrets, then that form of speech should not be protected by the First Amendment," Ballon told the E-Commerce Times.
String of Lawsuits
In a similar case last year, Traffic-Power.com sued search engine optimization blogger Aaron Wall because of comments left on his blog by other people.
In addition, Blois Olson, president of PR firm New School Communications and a Democratic political commentator, is filing suit against Michael Brodkorb, a Republican who publishes the blog Minnesota Democrats Exposed, because of alleged defamatory postings.
The courts are likely to see more of these blogging suits arise, Ballon noted, especially if the bloggers appear to be disclosing trade secrets or to be engaging in illegal or infringing conduct.
"This is just an extension of the same kind of issues that we've seen for many years on the Internet that arose in connection with stock board postings," Ballon said. "That the case deals with inducement of the disclosure of trade secrets, Apple should prevail."