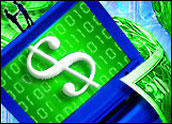 Advertisers have been skeptical for years about the pay-per-click online marketing model. Finally, there may be a model that advertisers like — one that is decidedly offline, however. It's called pay-per-call.
It seems as if every major Internet player, including Google, Yahoo, Microsoft, eBay, Amazon and, most recently AOL, has either rolled out or announced plans to launch a way to connect online browsers to text advertisers via voice.
Getting Answers
Consumers are starting to get used to the technology as a way to obtain answers to questions when text ads and Web sites won't suffice. Pay-per-call is especially enticing for the Internet players because some advertisers are starting to become wary of pay-per-click ads, due to increased click fraud and general concerns about the return on investment (ROI) of pay-per-click.
Pay-per-call ads work in a similar way to pay-per-click ads, except that advertisers pay when they receive a phone call rather than a click.
Google is reportedly struggling to convince advertisers that click-to-call is a good tactic, as many businesses don't want customers bombarding their customer service centers with simple questions. The costs are simply too high.
eStara Leading the Way
Some online retailers, like Amazon.com and Verizon Superpages.com, reckon they have already proved that click-to-call can work in a text ad environment. These companies have figured out the right way to deploy the technology to make sure people can only click when they are most likely to make a purchase, or if they have a complex question the Web site can't answer.
For the most part, companies using click-to-call have not developed the technology themselves. Third party developers, like eStara, which is the leader in click-to-call deployments worldwide, have powered the trend, and their customers in this segment include Amazon and Yahoo UK.
The technology is being touted in earnings released by the companies who are using it, however. "The company introduced click-to-call, a new feature for our U.S., UK, German and French Web sites that allows customers to be connected quickly with a customer service representative who often already has the customer's account information in front of them, saving the customer time and increasing satisfaction," stated a recent Amazon.com press release.
Expensive Lead Generation
UK-based online marketing firm Miva said that bid prices for its pay-per-call ads in the UK have reached as high as GBP35 — about US$50 — for the first time since the new channel launched last September.
"Advertisers determine the price of bids based generally on the quality and value of leads we deliver, so to see bids reach as high as GBP35 is, in our opinion, a significant vote of confidence in the power of our network, said Sebastian Bishop, president and chief marketing officer, at Miva.
Pay-per-call may be more likely to succeed in the area of mobile marketing. It may work well for advertisers to push ads via short messaging service (SMS) to consumers who are on the go, and give them a way to automatically dial the advertiser.
One recent deal in this area worth watching includes an arrangement between Ingenio, a provider of pay-per-call advertising, and Upsnap, a provider of free mobile search and streaming mobile audio entertainment. The pair formed a new partnership that will integrate Ingenio pay-per-call listings into Upsnap's mobile search solutions. The deal will enable Ingenio advertisers to reach consumers using Upsnap's Free 411 service, which allows people to access free directory assistance from cellular phones using text messaging or SMS.
"We see pay-per-call advertising poised for significant growth, especially in the context of mobile and local search-based advertising," said Tony Philipp, president and chief executive officer of Upsnap. "We can optimize our mobile search technology to deliver consumers fast, free access to more of the kind of local information they're looking for — be it a hotel, florist or pizza joint — in a format that is accessible by virtually all mobile devices."