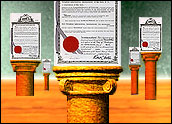 A federal judge on Friday dismissed a patent lawsuit Interval Licensing — Microsoft cofounder Paul Allen's company — filed last August in Seattle against 11 firms, including Apple and Google. Interval claims the defendants violated four patents owned by Paul Allen's company Interval Research on technologies it developed before it folded in 2000. When the company closed, it transferred the patents to Interval Licensing.
U.S. District Court Judge Marsha Pechman stated that the "Plaintiff has failed to identify the infringing products or devices with any specificity. The Court and Defendants are left to guess what devices infringe on the four patents."
Waste of Time?
Pechman's ruling echoed a motion to dismiss filed by Google in October. "Interval is not entitled to waste the Court and party resources with a scattershot Complaint against multiple Defendants that fails to give any indication as to which products or services Interval contends are infringing and the factual basis for such a claim," the motion reads. The other defendants also asked for a dismissal.
The tech firms named by Interval are a who's who of Internet giants: AOL, Apple, eBay, Facebook, Google, Netflix, Office Depot, OfficeMax, Staples, Yahoo and YouTube.
The Fight Goes On
Judge Pechman gave Allen until Dec. 28 to file an amended complaint spelling out in detail how the defendants infringed the patents, saying, "these allegations are insufficient to put the Defendants on 'notice as to what [they] must defend.'"
Interval sees the dismissal as simply a step in a longer process.
"Yes, [the lawsuit] will be refiled soon with more detail. This was largely a procedural move and does not derail the case," David Postman, a spokesperson for Interval Licensing who works at Paul Allen's company, Vulcan, told the E-Commerce Times.
"We have a scheduling conference [Monday] that has been on the calendar for some time and that is going ahead as planned," he said.
What Did the Defendants Do Wrong?
There remains much mystery as to how the defendants may have misused the patents. Since the patents are more than 10 years old, it's also a mystery why Allen would wait so long to file a complaint. When Allen delivers the promised details, some of the clouds should clear.
"I think this is just one step in a long process," Azita Arvani, principal of Arvani Group, told the E-Commerce Times.
"At this point these are very broad claims," said Arvani. "It's hard to know how good the patents are and how valid the claims are. As it moves along, we'll get a better idea of the merits of the claims."
The Patents in Question
The patents involved in the lawsuit: