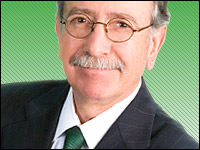 U.S. Supreme Court Justice Potter Stewart famously said in his 1964 Order that he could not use words to describe pornography, but "I know it when I see it."
Even though judges may not be able to define "social media," they generally understand the complex circumstances in legal disputes. However, social media is transforming the way we communicate and use the Internet, so when disputes arise, we often count on our courts to sort out the right legal answers for us.
What happens when our court system has difficulty keeping up with our youthful entrepreneurs who live social media lives? I think we all know that not only judges but our entire legal system still has a long way to go to grasp the full implications of social media.
A recent example of why even our courts need a crash course came from our highest court, when Justice Stephen Breyer, after watching the popular movie "The Social Network," said, "If I'm applying the First Amendment, I have to apply it to a world where there's an Internet, and there's Facebook, and there are movies like … 'The Social Network,' which I couldn't even understand."
So if billions of people around the world regularly rely on social media to communicate, and laws and courts in the U.S. and around the world have not yet caught up, what will result?
Deliberating in the Dark
Law is the cement that holds societies together. Legislative bodies create laws to suit the citizens depending on social forces, whether we're talking about Internet jurisdiction, privacy, crime, gambling or pornography. However, until disputes are brought to the courts for judges to rule on various laws, we don't always know what these new laws really mean — which, of course, creates uncertainty.
The learning curve Is steep, and in my recent column regarding the expectation of privacy of text messages sent or received by police officers in the City of Ontario, Calif., I reported that the U.S. Supreme Court ruled that Officer Quon should not have expected any privacy in his text messages since he used a city-provided device to send and receive them.
Consider the comments and questions that the Supreme Court asked during oral argument: "I thought, you know, you push a button; it goes right to the other thing," Chief Justice John Roberts said.
Responded Justice Antonin Scalia: "You mean it doesn't go right to the other thing?"
Although these members of the U.S. Supreme Court didn't understand how text messages were sent or received, the Supreme Court did vote 9-0 that Officer Quon should not have expected privacy using city-issued equipment.
Even though at least two members of the Supreme Court did not understand how text messages are transmitted, the Court agreed on what appears to be the right decision for the right reasons. As other privacy lawsuits wind their way to the U.S. Supreme Court, we will get a better idea about the legal parameters of privacy, social media, and the Internet in the U.S.
Getting the Legal System Up to Speed
Law students study contracts, property, constitutional law, and criminal law, but these law school classes rarely include any social media legal questions. I've been teaching a course on the Law of eCommerce, including social media legal issues, since 2000 at the SMU Dedman School of Law in Dallas.
While SMU has been forward-thinking, what about future lawyers who are not introduced to e-commerce and Internet law while in school? What is the likelihood they will understand these complex legal issues after they graduate? My concern is that there will be a growing divide between lawyers and the clients they serve when it comes to social media.
Arbitration and Court-Appointed Masters
There are two ways to get help with disputes from people who are savvy and experienced in social media and technology. One is arbitration. The other is the use of a court-appointed master by a judge. Because of years of IT and Internet experience and understanding of technology — and, more recently, social media — I am increasingly asked to arbitrate or act as a special master in cases involving these issues.
The number of people with a broad background in these areas is growing, and as they get experience, businesses and judges alike can rely on them to help without necessarily having the background themselves.
Since arbitration is a creature of contract, parties may specifically agree that the arbitrator(s) must have certain experience. For instance, the arbitration agreement may require the arbitrator to have a degree in computer science, or experience litigating patent-infringement disputes, negotiated outsourcing agreements, or software licenses. As a result, the parties can hand-pick the individual who decides who is right and who is wrong.
One feature of arbitration is that generally, there is no appeal from the final ruling, called an "award." However, if a party to an arbitration wants to challenge the final award, an appeal must be made to a state or federal Judge. Generally, awards are not overturned (vacated) except due to fraud on the part of the arbitrator(s) or failure of the arbitrator(s) to consider all the evidence.
Similarly, a court-appointed master can assess facts and provide a trial judge whose actual experience in social media is limited with an experienced perspective, making it easier for the judge to rule in the case. This could present a record with higher clarity on the issues should the parties wish to appeal.
In Conclusion
Of course, more and more Judges and lawyers will understand social media and Internet legal issues in the future, but there is risk when a dispute reaches the courthouse or arbitration.
So the best thing to do is to have good contracts that include specific details about social media and Internet law issues so that parties can avoid litigation or arbitration altogether.
---
E-Commerce Times columnist Peter S. Vogel is a trial partner at Gardere Wynne Sewell, where he is chair of the eDiscovery Team and Chair of the Technology Industry Team. Before practicing law, he was a systems programmer on mainframes, received a masters in computer science, and taught graduate courses in information systems and operations research. His blog covers contemporary technology topics. Vogel can be reached at [email protected].