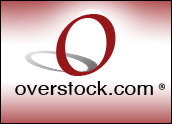 In a brewing battle of online auctioneers, discount e-tailer Overstock.com is taking full advantage of eBay's new, higher pricing. Just days after eBay announced a 60 percent price increase that enraged its Store subscribers, Overstock has reduced its listing fees 52 percent.
Analysts said eBay could lose market share as a result of its recent pricing changes.
Overstock's strategy appears to be paying quick dividends. The company reports a 50 percent surge in auction listings in the five days since eBay's announcement.
Roaring Rancor
"That's a significant jump," Holly MacDonald-Korth, Overstock.com's vice president of auctions, said. "Clearly there's growing rancor among eBay's community of sellers."
EBay executives could not immediately be reached for comment.
What's all the uproar about? Effective at midnight on February 18, the fee for the basic eBay Store subscription will be raised from US$9.95 to $15.95 per month. The Final Value Fee, the percentage that eBay takes off the closing price, is also going up. Sellers will pay 8 percent of the closing value for sales up to $25. Fees range as high as 16 percent for higher value items.
However, that's not all. EBay is also boosting its "Buy It Now" fees, abandoning the flat rate fee, instead charging based on the price of the listed item. The 10-Day Duration fee is also going up.
Sellers haven't taken too kindly to the price increases, as evidenced by not only the migration to Overstock.com, but also by a statement from the Professional eBay Seller's Alliance (PESA) issued today. The group says it is composed of 600 of eBay's largest sellers.
"Overall, our members are reporting that they will pay up to 22 percent more to eBay than before the increase. That's unprecedented, and will have broad marketplace implications," the statement said. "Anecdotally, we already see eBay's top sellers beginning to focus their attention on other channels based on this and other problems. We hope to have data on this soon."
Money on the Table
EBay has been building a healthy business with its Store subscriptions. The online auctioneer reported it had 224,000 stores worldwide at the end of the third quarter (September 2004). PESA claimed in its statement that its 600 members alone represent more than $1 billion in annual eBay sales.
Is eBay really greedy, as angry community members allege? Or just smart? Jupiter Research Senior Vice President of Research David Schatsky told the E-Commerce Times that eBay's decision to raise fees was likely inspired by its view that the previous fees were "leaving money on the table."
Schatsky said eBay could have handled the announcement better, especially considering the company's focus on building a loyal and evangelical community, but he said the price hike has received unwarranted attention.
"Six dollars per month is not going to be material to any seller, especially not the Power Sellers who are the bread and butter of eBay," Schatsky said. "The increase of Final Value Fees for Store Inventory items, though, will hurt some sellers as it shaves nearly an additional 2.5 percent off their margins."
Mass Exodus?
Will Overstock.com, Amazon.com and Yahoo be the beneficiaries of a mass exodus from eBay? So far Amazon and Yahoo have not made any overt moves to woo eBayers to their auction sites. Overstock is prepared to take its campaign a step further. The company said each person who visits or registers with Overstock.com Auctions on the day eBay's new fee structure takes effect will receive a $10 credit toward Overstock.com Auctions listing fees.
"The small-fry sellers will probably stick around due to inertia, while savvy sellers will explore other options, like Overstock and search marketing through Google and Overture," Shatsky predicted.