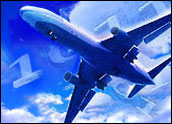 The war of words over travel site Orbitz has reached the White House.
Several Orbitz competitors, including Travelocity parent Sabre Holdings and Expedia.com, sent representatives to a White House meeting Tuesday, at which they made their case for stepping up reviews — already under way by the U.S. Department of Transportation and the Department of Justice — into whether Orbitz violates antitrust laws.
In a letter to the administration, the executives stated that prioritizing the reviews is important as Orbitz becomes more established. "We appeal to the Administration to intervene immediately and decisively — before irreparable harm to consumers and competition occurs," they wrote.
Dueling Letters
Orbitz responded by issuing a letter that CEO Jeffrey Katz sent to President Bush. In it, Katz took aim at the claim that Orbitz has sparked a "crisis" in the online travel space.
"There is no crisis," Katz wrote. "There is only the complaint of entrenched companies seeking to impede progress and innovation, and to preserve an inefficient but highly profitable business."
To support his argument, Katz pointed to recent earnings reports from Expedia and Sabre, which he said show that many online travel firms are "growing nicely as many consumers embrace the convenience and expansive travel information available on the Internet."
Competing firms' executives want regulators to hone in on certain provisions of Orbitz' contract, which they say unfairly give the company access to tickets from 42 different airlines that have signed the contract.
Holding Pattern
Conceived by airlines in mid-2000 as online travel began to take off, Orbitz launched last summer and has quickly become one of the top three most-visited travel sites on the Web, according to data from Nielsen//NetRatings.
Orbitz has maintained all along that its competitors operate with similar programs in place and that the regulatory actions largely stem from the lobbying of travel companies threatened by Orbitz.
Orbitz spokesperson Stacey Spencer told the E-Commerce Times that the company welcomes a more speedy resolution to the ongoing investigations. "We're confident in the outcome," Spencer said. "We just want the inquiries to run their course without undue political influence."
Spencer also pointed out that an internal inquiry by the Department of Transportation found that the site seems to have provided consumer benefits since its launch.
Tick Tock
While competitors say the investigations have dragged on for too long, time might be important for Orbitz' competitors for another reason: The company has already filed notice with the U.S. Securities and Exchange Commission that it intends to launch a US$125 million IPO.
No time frame has been placed on the offering, and the volatile stock market means it isunlikely to happen soon. But competitors might feel they have a better chance of winning concessions against Orbitz while the site remains a privately held offshoot of the airlines.