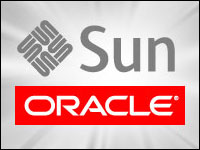 When Larry Ellison introduced new servers and clusters at the old Sun Microsystems auditorium in Santa Clara, Calif., on Thursday, he poked fun at competitors IBM and HP, depicting Oracle as a cheetah, IBM as a stallion and HP as a turtle. He noted that HP products are slow and the company is vulnerable in the marketplace.
The SPARC Supercluster Ellison introduced is based on SPARC T3 and M5000 servers. The new supercluster utilizes new SPARC servers, FlashFire, InfiniBand QDR, Oracle Solaris and the ZFS Storage Appliance.
The announcement makes good on Ellison's pledge earlier this year that Oracle would keep the hardware company moving forward.
A cluster of 27 of its servers can perform 30 million transactions per minute, Oracle claims, while it maintains that IBM equipment can only perform 10 million per minute, and HP's can produce just 4 million per minute.
Not everyone is impressed with Oracle new benchmark.
"Here are the facts," IBM spokesperson Rick Bause told the E-Commerce Times. "Oracle achieved its benchmark result by lumping together 27 systems — a highly inefficient approach that is not practical in the real world. To achieve its result, Oracle needed 27 servers, 1,728 cores and 13,824 threads. In contrast, IBM's clustered system results announced in August show three times the performance per processor core than this new Oracle system."
Oracle did not respond to the E-Commerce Times' request for comment by press time.
Flexing Its Hardware Muscles
Thursday's announcement comes off an announcement of new Sun equipment earlier in the fall.
"Oracle is taking advantage of its Sun purchase and showing off Sun's hardware," Azita Arvani, principal of the Arvani Group, told the E-Commerce Times. "However, they are not just depending on Sun hardware. While they released the SPARC-based Exalogic Elastic Cloud version yesterday, Oracle had released the Exalogic on Linux back in September."
Of the two major hardware competitors Oracle faces, HP and IBM, Oracle poses the bigger threat to HP.
"Oracle is more of a challenge to HP because they were using HP as their hardware partner," noted Arvani. "Now that they have Sun, they have less reliance on HP.
"But Oracle is not much of a challenge to IBM," she continued. "IBM has a solid hardware business, and IBM's competition with Oracle will not be elevated beyond what it is now."
Is Oracle Convincing as a Hardware Company?
The SPARC products may give Oracle street cred in the hardware world.
"It's fair to say that these new SPARC-based products are probably the most interesting products that the combined Oracle and Sun has come out with," Charles King, principal analyst at Pund-IT told the E-Commerce Times. "The Exadata products that came out earlier were from an architecture developed by Oracle and HP, so it didn't take an enormous amount of work to shift over to Sun."
The new products are also a demonstration that Oracle is serious about retaining Sun customers.
"These new SPARC products were produced to quell concerns by Sun customers about whether Oracle could continue to support that line," said King. "This is the proof in the pudding. Oracle has lost hundreds of customers to IBM over the last year. This is the type of solution they will have to keep delivering in order to keep Sun customers from jumping ship to other companies."
The considerable migration of Sun customers to other hardware companies such as IBM has slowed, but Oracle still faces challenges in keeping the customers who remain.
"The customers who left had a couple problems. You had a hardware-centric company that was suddenly owned by a software company," said King. "Simply buying a hardware company doesn't make a software company into a systems company. It takes engineering between hardware and software. This is not an inconsiderable task. There were questions about whether Oracle would have the expertise and fortitude to make Sun a strong hardware company."
Will the Hardware-Software Mix Succeed?
There are still questions remaining about how well Oracle will perform as a combo hardware and software company.
"Oracle is experimenting with a hardware option for its software that is under their control," said Arvani. "If it works out, that will be great. If not, they are still primarily a software company, and it is no big loss."