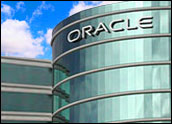 Oracle on Wednesday announced two cloud-based office productivity suites for the desktop and mobile devices — Oracle Cloud Office and Oracle Open Office 3.3. Both products will compete directly with Google Docs and Microsoft Office.
The products are designed to be enterprise-level suites with applications for word processing, spreadsheets, presentations, database and drawings. Oracle Cloud Office 1.0 is a Web and mobile suite designed to enable Web 2.0-style collaboration and mobile document access. The product is compatible with Microsoft Office and integrates with Oracle Open Office.
Oracle Open Office 3.3 is an update of the product Oracle acquired when it bought Sun Microsystems. It includes enterprise connectors to Oracle Business Intelligence, Oracle E-Business Suite and other Oracle applications, as well as Microsoft Sharepoint.
Whiz-Bang Earnings
The office products debuted just before Oracle's Thursday announcement of the company's strong Q2 results, in which CEO Larry Ellison noted that Oracle is quickly gaining on rivals HP and IBM in the high-end server market.
Oracle beat Wall Street estimates for the quarter with sales of new software licenses and database and middleware products. Hardware products, however, were the focus of attention of the conference call as Ellison jabbed at HP and IBM, noting that HP is vulnerable to marketshare losses.
Oracle did not respond to the E-Commerce Times' request for comments by press time.
Can Oracle Cloud Office Win New Customers?
The revamped Open Office 3.3 is aimed more as an update for existing customers rather than a product to entice new customers.
"Oracle has rebranded the Sun office suite that was based on open office technology years ago," Charles King, principal analyst at Pund-IT, told the E-Commerce Times. "It's an open source collection of office productivity applications that Sun was never really able to press into the market beyond a few dedicated Sun customers. That's likely to be about all that Oracle is able to do with it."
In the past, Oracle has downplayed cloud computing. With the new Cloud Office products, Oracle sounds like a convert.
"Larry Ellison made comments about the cloud being no new thing. He's actually correct. It's been around forever," noted King. "It's basically a highly virtualized data center, and that's been around since data centers have been around. The folks at Oracle recognized that they were the only ones who were not taking about the cloud, and they didn't want be the odd man out."
Has Oracle Lost the Open Source Community?
The update of the open source Sun product follows soon after a major rift between Oracle and the open source community over Java.
"Open source was an issue of tension going up to the Sun acquisition," noted King. As soon as the acquisition was finished, Oracle tried to pull an atomic wedgie on the open source community.
"Apache refused to play the game that way," he continued. "Since Oracle owns Java and owns other name-brand open source technologies, they can play the game they want to, but I don't think anyone should be surprised if they have to go it alone."
Can Oracle Compete?
Oracle bites off a big chunk of competition with office products — possibly more than it can chew so late in the game.
"They're at a definite disadvantage considering competitors have been carving out niches and building their reputations and technologies very well," technology project manager and Geek 2.0 blogger Steven Savage told the E-Commerce Times. "For Oracle to succeed, they'll need to leverage all the technologies they've been buying over the years into one coherent vision they can sell."
When it comes to office products, there are niche players to contend with as well as the major office software producers.
"Google and Microsoft are not Oracle's only rivals," noted Savage. "Salesforce.com — which has had a spectacular rise and growth — is clearly targeting Oracle with Database.com, and they are already strong in the cloud and SaaS space."