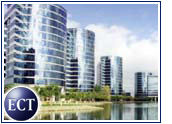 Oracle Corp. (Nasdaq: ORCL) plunged 41/16 to 24 3/4 Monday after the e-business software giant announced executivevice president Gary Bloom was leaving to head Veritas Software.
Oracle chairman and chief executive officer Larry Ellison said Bloom's moveto Veritas would foster relations between the two companies.
"Gary is joining a key Oracle partner," said Ellison. "With Gary at Veritas we expectan already close relationship to grow even closer."
The departure of Bloom — who has been mentioned as a possible successor toEllison — sent shares of Oracle tumbling from the open.
Following the announcement late Friday, UBS Warburg chief global strategist Edward Kerschner dropped Oracle from thelist of highlighted stocks at UBS and its PaineWebber, Inc. affiliate.
First Union Securities, meanwhile, lowered its price target for Oracleshares to 35 from 40, saying there could be some "interim risk" for thecompany as it shifts management, noting that Bloom was the second executiveto leave in six months.
Bloom headed the company's database business "with particular strength inthe services sector," and the transition could affect the division, saidFirst Union.
"We believe that Oracle's management team is deep enough to handle thedeparture of another EVP from the ranks and does highlight the capabilitiesof Oracle managers as they leave to credible positions outside the company,"the First Union report said.
Bloom will stay on at Oracle through December 15th to ensure a smoothtransition, Oracle said. The company did not name a single successor, sayingBloom's job would be "split among several Oracle senior executives."