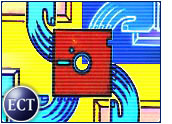 Oracle (Nasdaq: ORCL) fell US$1.82 to $17.93 in morning trading Monday, after Lehman Brothers downgraded the stock to buy from strong buy.
"Although it's still early in the quarter, we worry that what is typically a seasonally strong quarter for Oracle could prove to be unusually weak, given the tough U.S. macroeconomic environment and potentially weakening conditions in international markets," wrote Lehman analyst Neil Herman in a research note.
Herman also lowered his earnings estimates for Oracle, saying license revenue will be lower than previously thought. He now expects Oracle to earn 14 cents per share in the fourth quarter ending May 1st, compared to previous estimates of 15 cents per share.
Weak results at Sun Microsystems (Nasdaq: SUNW) "compound our near-term worries" about Oracle, Herman wrote, because Oracle software powers Sun servers.
Oracle is Sun's "single most important independent software vendor partner," Herman wrote. Sun's recent report of a 2.3 percent decline in product revenue in the quarter just ended, and its projection of "disappointing" results ahead, do not augur well for Oracle, he said.
"Although we clearly believe that Oracle will come out strongly on the other side, we believe that current economic conditions remain tough, with (information technology) managers being quite reticent to make big purchasing commitments," wrote Herman.
Oracle's "historic dependence" on big transactions "increases the company's near-term vulnerability" to that trend, he wrote.
In addition, according to Herman, Oracle shares have had a good run over the past two weeks and are trading at a "significant premium" to their traditional price/earnings ratio and revenue multiple basis.