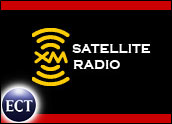 In the midst of heated competition to attract popular personalities to the satellite radio space, Harpo Radio and XM Satellite Radio on Thursday announced an exclusive, three-year agreement to launch a new channel called "Oprah & Friends."
Set to debut in September 2006, it will feature a broad range of original programming from Harpo Radio. The channel will be broadcast from a new XM studio at Harpo Studios in Chicago and tap XM Radio's more than 6 million subscribers.
"Oprah Winfrey is a prolific force in our culture whose unprecedented achievements in television, film, publishing and philanthropy will bring an amazing radio experience to the XM nation of subscribers. We are proud to welcome Oprah and her talented team to the XM family," said Hugh Panero,president and chief executive officer, XM Satellite Radio.
O-riginal Programming
The "Oprah & Friends" channel will feature popular "Oprah" personalities and original daily programming on a variety of topics, including nutrition, fitness, health, self improvement, home and current events.
Those friends include Bob Greene, Dr. Mehmet Oz, Dr. Robin Smith, Marianne Williamson, Nate Berkus and Gayle King.
The show will also feature content from O, The Oprah Magazine, and an exclusive original weekly reality radio show with Oprah Winfrey and Gayle King.
"Together with my friends, we look forward to creating programming that will entertain, inform and inspire our listening audience on XM," Oprah Winfrey said.
Evolving Together
"Oprah & Friends," Panero said, is a testament to XM's commitment to provide its diverse subscriber base with the kind of smart, high-quality programming that makes a difference in their lives.
In addition to marking a new chapter in the evolution of satellite radio, the XM deal is a bonus for Harpo's media portfolio. It already boasts Harpo Productions, which produces "The Oprah Winfrey Show" and develops original TV programming, and the popular women's lifestyleWeb site Oprah.com.
Harpo also produces "Oprah After the Show," an original cable series that airs on the Oxygen Network. Harpo Films produces feature films and telefilms under the "Oprah Winfrey Presents" banner. Harpo Print and Hearst Magazines co-publish the monthly O, The Oprah Magazine and quarterly O at Home publications.
"'Oprah & Friends' will not only complement our existing television, print, film, cable and online properties but will provide new opportunities to extend our brand to XM's millions of listeners," said Tim Bennett, president, Harpo Productions.
Building the Brand
XM's 2006 lineup includes 160 digital channels of choice from coast to coast, commercial-free music, premier sports, talk, comedy, children's and entertainment programming, and traffic and weather information.
"This is obviously a good move for XM," said Barrington Research Analyst James Goss. "At US$55 million cash over three years, plus the opportunity to add subscribers and generate ad revenues, the break-even point is not all that high. If XM can add even 200,000 subs, that would effectively pay for it."
The Oprah show will round out XM's offerings in terms of news, talk, sports and entertainment, Goss told TechNewsWorld.
Serious Business
Is Sirius green with envy? Maybe so, maybe not, analysts said.
"Sirius has done pretty well with Howard Stern. XM signed the anti-Howard. It's a different type of appeal. Howard obviously tends to appeal to a young male crowd. Oprah is the opposite of that," Moss said.
XM also leads the satellite-delivered entertainment and data services for the automobile market through partnerships with General Motors, Honda, Toyota, Hyundai, Nissan and Volkswagen/Audi. It is available in more than 130 different vehicle models for 2006.