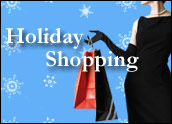 The holiday shopping season data just keeps rolling in as analysts begin to decipher what it means for next year. The latest monitor to offer its data is Hitwise, reporting that shopping and classifieds Web sites accounted for 9.1 percent of all U.S. Internet visits between November 1 and December 25.
Traffic to those sites was up 25.6 percent over the year-ago period, with visits peaking on Thanksgiving Day, according to Hitwise. This marks a correlation to holiday shopping patterns in 2003: Online traffic peaks occur on the weekends, except for Thanksgiving and Christmas Day.
"In looking forward to the next holiday season, this repeating pattern provides invaluable insight to marketers in order to maximize their online marketing spend," Hitwise Vice President of Research Bill Tancer said.
Invaluable Insights
Tancer's research suggests that consumers are researching online before visiting brick-and-mortar stores on Black Friday, the day after Thanksgiving.
While visits to the sites of Dell, eBay and Amazon peaked on December 9, 10 and 11, respectively, shoppers hit offline brands, including Walmart.com, BestBuy.com and Target.com on Thanksgiving Day, presumably in preparation for Black Friday, according to Hitwise data.
Visits to the Web sites of brick-and-mortar retailers also jumped on Christmas day as consumers sought information on how to return items and looked for post-holiday shopping clearance sales.
"Where 2004 differed from 2003 was in the delayed, yet rapid, growth curve leading into Thanksgiving," Tancer said. "Shopping sites increased 26 percent from November 1 to November 24 versus a 6.8 percent increase over the same period in 2003. With the presidential election, the war in Iraq and mixed economic signals, it appears that consumer uncertainty played some role in that shift."
The Bottom Line
Many reports on the holiday shopping season seem to validate earlier predictions. Jupiter Research, for example, projected US$21.6 billion in online spending this year, a 19 percent increase over last year, which appears to be a safe bet considering the early totals.
Although the final numbers are pending, Jupiter Research Senior Vice President David Schatsky discerns a pattern: The surge in online purchase activity demonstrates the increasing importance of the Internet to retailers of all stripes.
"For 2005, the basics, such as merchandising and inventory planning, remain essential," Schatsky told the E-Commerce Times. "Beyond that, retailers who've proven they can reliably serve last-minute shoppers should make the most of guaranteed delivery dates."